Genasun 8A MPPT Voltage BOOST 12/24/36/48V Solar Charge Controllers
SELECT MODEL
---
Quantity
Image
Name
Price

true

Genasun 8A MPPT 12V (14.2V) Voltage BOOST for Lithium

Made in USA - 5 year warranty

- GVB-8-Li-14.2V

$259.00

In stock

true

Genasun 8A MPPT 12V Voltage BOOST for Lead-Acid

Made in USA - 5 year warranty

- GVB-8-Pb-12V

$199.00

In stock

true

Genasun 8A MPPT 24V (28.4V) Voltage BOOST for Lithium

Made in USA - 5 year warranty

- GVB-8-Li-28.4V

$329.00

In stock

true

Genasun 8A MPPT 24V Voltage BOOST for Lead Acid

Made in USA - 5 year warranty

- GVB-8-Pb-24V

$279.00

In stock

true

Genasun 8A MPPT 29.05V Voltage BOOST for Lithium

Custom Voltage (29.05V)

- GVB-8-Li-29.05V

$329.00

In stock

true

Genasun 8A MPPT 36V (41.7V) Voltage BOOST for Lithium

Made in USA - 5 year warranty

- GVB-8-Li-41.7V

$329.00

In stock

true

Genasun 8A MPPT 48V (56.8V) Voltage BOOST for Lithium

Made in USA - 5 year warranty

- GVB-8-Li-56.8V

$329.00

In stock

true

Genasun 8A MPPT 48V Voltage BOOST for Lead Acid

Made in USA - 5 year warranty

- GVB-8-Pb-48V

$279.00

In stock
GVB-8 (BOOST) 8A MPPT @ 12-48V
Reliability & efficiency down to a science.
Marine | RV | Industrial | Military | Street Lighting | Off-Grid
Get your money's worth with Genasun. A true problem-solver, the unique GVB charge controller with MPPT allows a lower-voltage solar panel to charge higher-voltage batteries. Want to charge a 24V battery with a 48-cell solar panel? No problem. A 48V battery from a 12V panel? We've got you covered. With 99% peak efficiency, they are the industry's most efficient voltage-boosting controllers. True MPPT delivers consistent performance, unlike the "Nominal MPPT" of competitors. The advanced electronics inside the controller are encased in a proprietary potting compound making them ideal for golf-cart, marine, and vehicle applications.
99% peak efficiency
In-line fuse
Ultra-fast true MPP Tracking
Excellent low-light performance
Wire leads for easy installation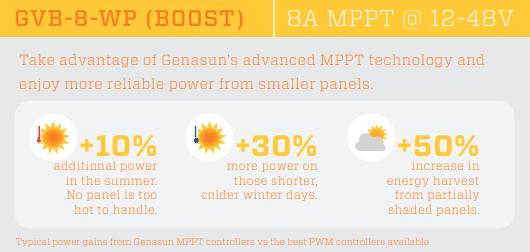 (
GV-Boost
)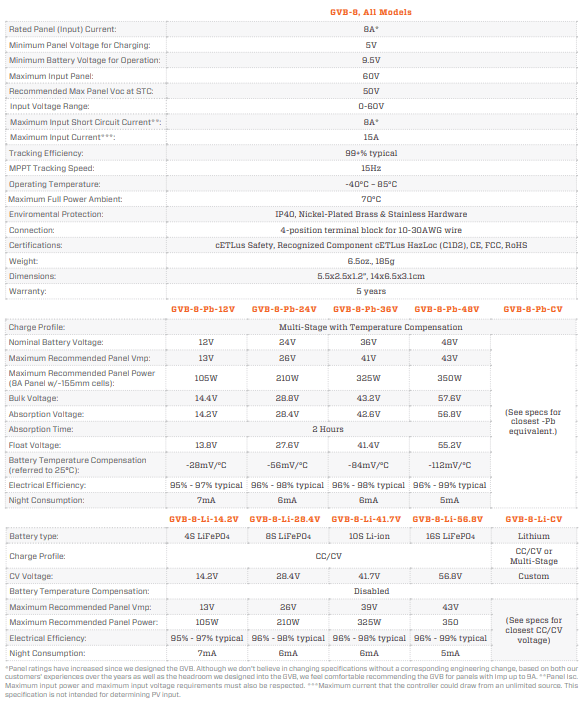 The GV-Boost Waterproof solar charge controllers carry a 5-year warranty on materials and workmanship. Genasun's warranty does not cover damage due to abuse or operation beyond the rated specifications.
---
Others Also Bought
---
More From This Category