Sunman eArc 175W - Flexible Solar Panel - Junction Box Underneath
1504 x 673 x 2mm 3.3kg - Mono PERC Cells - 19.5Vmp
Compact and Efficient Mono-PERC Solar Panels
Superior solar technology with compact Mono-PERC solar panels. These lightweight yet robust panels are perfect for various applications, including caravans, motorhomes, yachts, trains, and buses.
Lightweight and durable construction with cutting-edge technology

Highly efficient monocrystalline cells for optimal energy production

Flexible design for easy installation on various surfaces

Endorsed by the Clean Energy Finance Corporation and Australian Renewable Energy Agency

CEC-approved for residential and commercial use

10-year product warranty for buildings and 5 years for mobile applications
Crafted using a patent-pending composite material akin to airplane windows, Sunman solar panels offer unmatched durability. Approved by the Clean Energy Council for residential use, these panels are tough without the need for a heavy, rigid frame or glass. Explore the 'About Sunman' tab for more details.
Optional Mounting Solutions:
Multiple mounting options available, ensuring a secure and efficient installation that meets your specific needs. Please carefully follow the mounting instructions here which include the below:
Vented Gap Kit: Improves panel efficiency and reduces surface heating. Includes high bond double-sided adhesive tape and polycarbonate strips. (Height increase of approximately 22mm)
High Bond Double-Sided Adhesive Tape: Provides a low-profile, secure bond for smooth surfaces. (2.3mmH x 12mmW x 16.5mL)
Bi-Adhesive Backing: We can fit a continuous sheet of 1mm bi-adhesive material on the back of the panel for easy peel-and-stick installation on smooth surfaces.
Structural Silicone (Fix8): Can be used to adhere the panel to a surface.
Eyelets: We can press eyelets into the panel so it can be secured using bolts or screws.
Experience the difference of Sunman eArc solar panels for yourself, and join the countless satisfied customers who have made the switch to a more sustainable and efficient energy solution.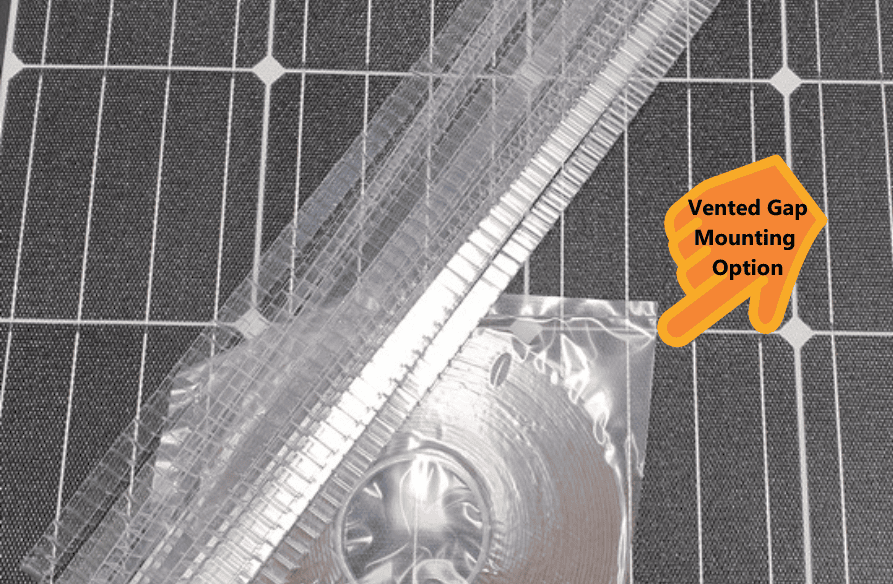 Read/watch more on Sunman here
Manufacturer's Website
(SMF175M-4X09DW)
Need help choosing a solar panel? Click this link to check our solar panel selector table!
| | |
| --- | --- |
| SKU | eASMF175M-4X09DW |
| MPN # | SMF175M-4X09DW |
As featured in ABC News - Sunman is 14% owned by the Clean Energy Finance Corporation.
The Clean Energy Finance Corporation is a is a 100% Australian Government-owned Green Bank which invests in creating a more sustainable Australia.
Features of Sunman eArc Solar Panels
eArc by Sunman solar panels are the only lightweight solar panels approved for grid connect on buildings which means they have passed the same testing criteria as traditional solar panels.
Durable. Built to last.
It's durable, reliable and long term. Unlike cheaper entry level competitors, eARC has actually passed all the same durability tests as glass panels, and further tests beyond that. It performs the same as glass panels, without the glass. It's passed hail, fire, ammonia corrosion, salt mist, damp heat, UV exposure and more tests. eARC can withstand prolonged exposure to Australia's open air environment.
Tougher, lighter, thinner and more durable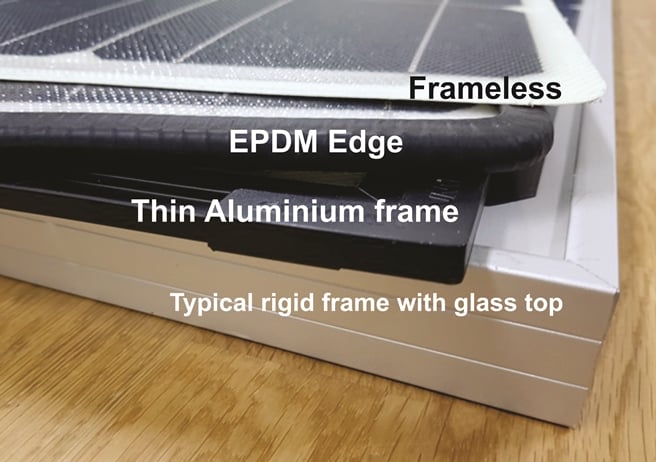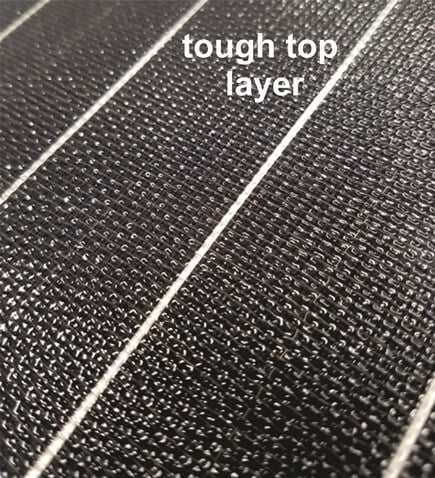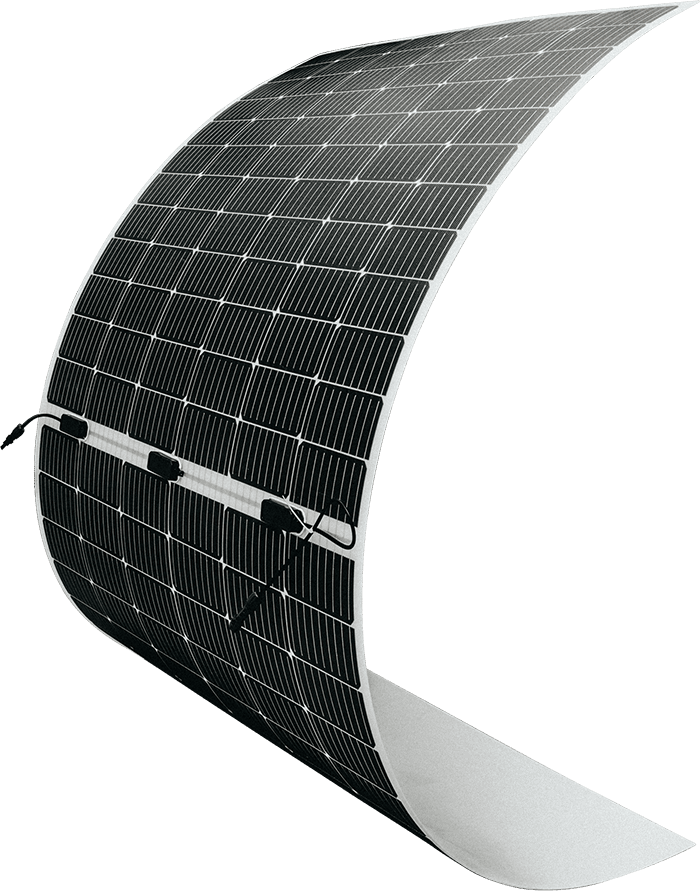 Cutting edge technology - glass fibre-reinforced composite polymers similar to aircraft windows

Light - 175W frameless is 3kg

Thin - 2mm

Tough -

Hail tested with ice stones of 35mm diameter and 200g mass at 39.5m per sec​

Strong - rated 2400 pascals for wind and 2400 pascals for load

Durable -

​10 year product warranty for building and 5 years for mobile application

Output - Efficient monocrystalline cells, 25 year performance guarantee

Proven tough by a decade of installations in Australian under all Australian conditions
​Development of the new waterproof composite polymers and panel structure was accelerated by funding of $3.3M from the Australian Renewable Energy Agency (ARENA) to achieve the same durability as conventional solar panels.
eArc panels have been installed on the world's first solar powered train in Byron Bay and 812 (235kW) panels have been installed onto the Sydney Maritime Museum's Heritage Building which could not support heavy glass framed solar panels. To date more than 6MW of eArc capacity has been installed in Australia.
eArc has obtained a series of other certifications for reliability, including:

Accreditations by Sunman eArc:
eArc is the first module of its kind to pass the same durability and safety tests as glass modules, including IEC 61215:2016, IEC61730:2016 and UL1703 (USA). eArc has also passed additional module quality assessments, including 3000 hours of damp heat, UV exposure (25 years equivalent), PID, salt mist and ammonia corrosion tests. eArc is CEC (Clean Energy Council) approved in Australia.
But I Do Not Trust Lightweight or Flexible Solar Panels:
We get it. eARC is a new innovative solar product so its hard to know if its trustworthy. However, it has passed all the same durability tests as glass panels and further tests beyond that still. It's CEC approved and certified, and backed by the Australian government through the Clean Energy Finance Corporation.
We are starting to see new similar innovations enter the market. eARC has just established a gigawatt size factory to cater to enormous global demand. It has a 25 year performance warranty and was innovated by Dr Shi, an adjunct professor at the UNSW with over 100 papers published, over 60 patents in photovoltaics. eARC is involved in vehicle integrated photovoltaics and building integrated material photovoltaics.
What About the Heat from the Solar Panel Directly Touching the Roof:
The reason eARC can be quickbonded without any mounting support allowing for airflow underneath is because eARC doesn't have any glass. Conventional glass panels need 200mm clearance because they have glass, and glass is an insulator. In fact, with eARC, heat goes out from the front of the panel. eARC is cooler than conventional glass panels.
A robust, lightweight, flexible solar panel that is perfect for caravans, motorhomes, boats, golf carts, trains, buses and other applications.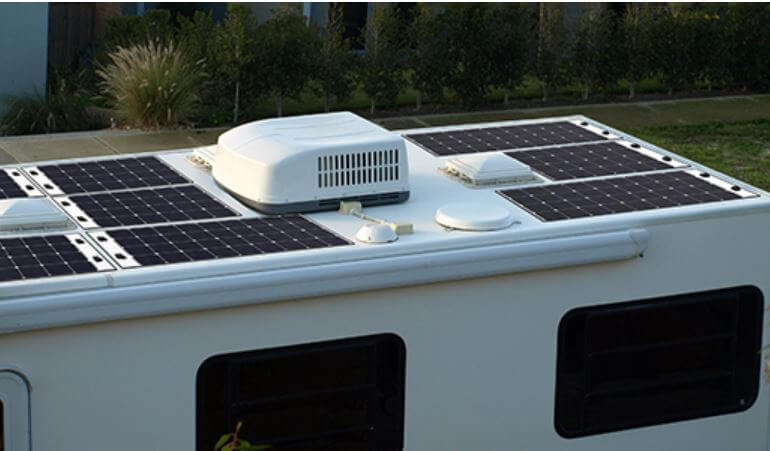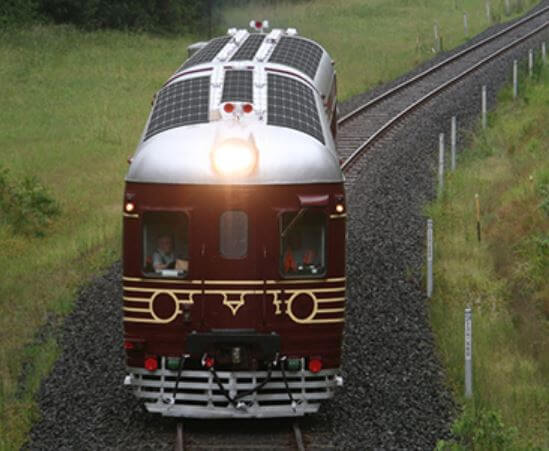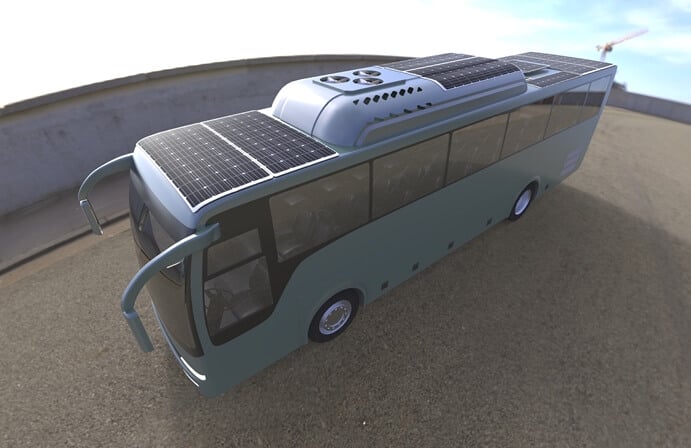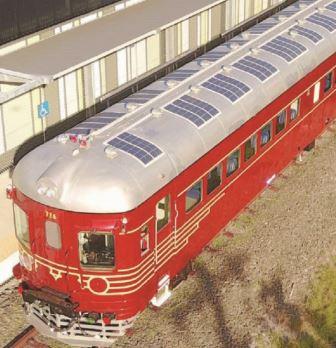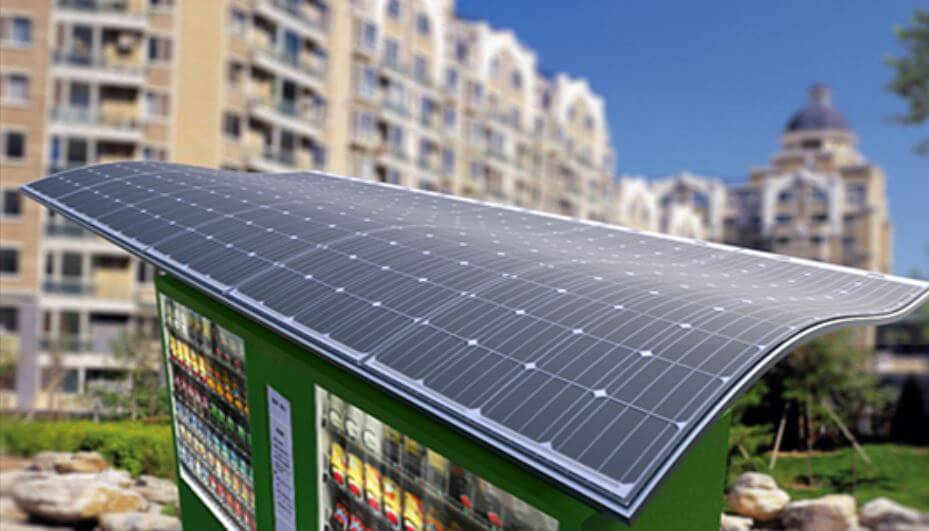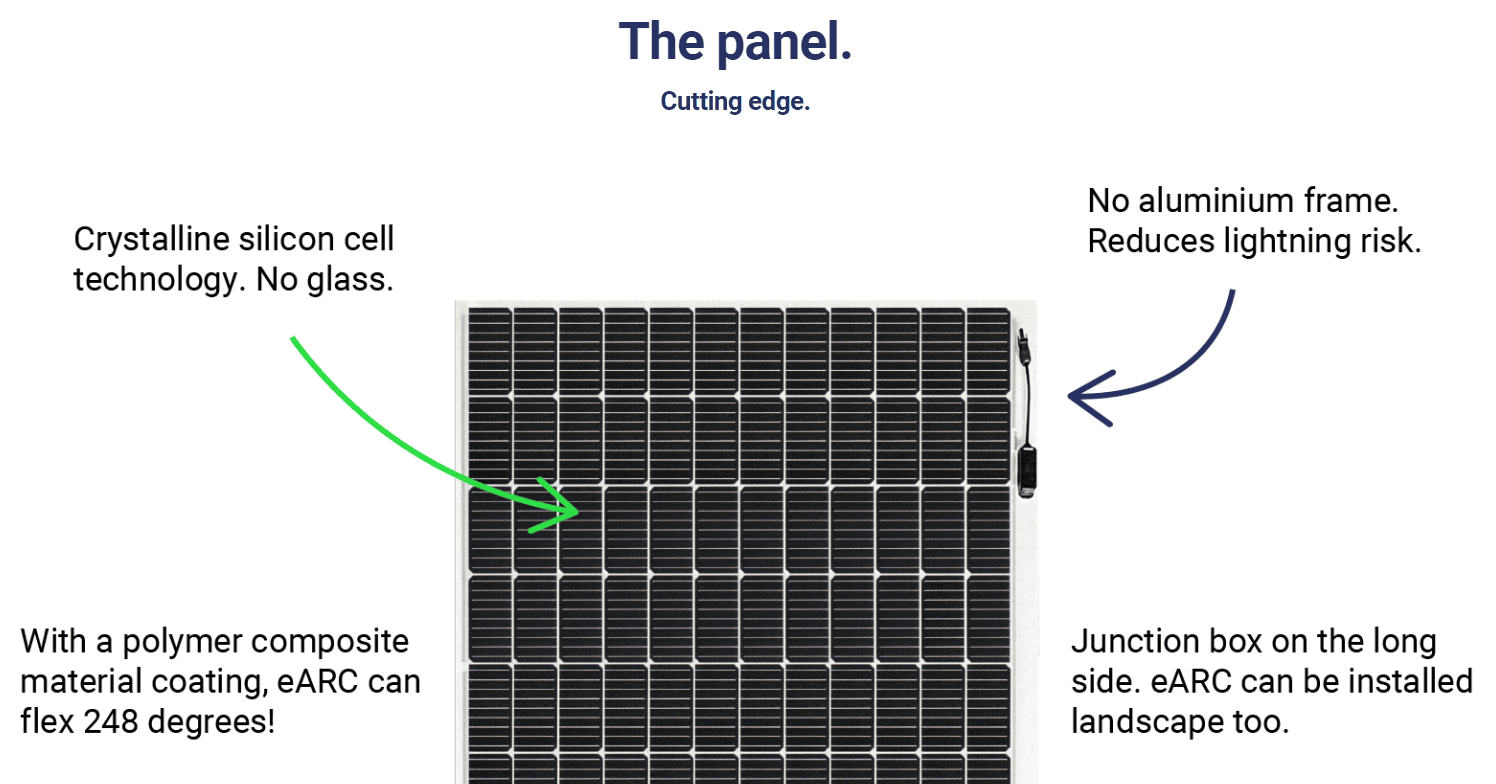 View our foldable / portable Sunman eArc Solar Panels
Take a Look at These Sunman Videos:
The Sunman eArc panels are used on major projects where reliability is critical and where the weight of rigid panels is not feasible such as the Byron Bay train.
235kW on Australia National Maritime Museum
Installation Example on buildings:
1. Limited Product Warranty for Mobile/Marine Applications
Sunman (Zhenjiang) Company Limited ("SUNMAN") warrants that its photovoltaic modules together with the DC connector cable assemblies are free from defects, if any, in materials and workmanship under normal application, use, installation and service conditions for a period of pending 60 months from the delivery (Incoterms 2010) of SUNMAN modules ("Modules") to the
original end customer ("Customer"), or 12 months after the date of production of the Modules as indicated in the serial number, whichever date is earlier. If Modules become malfunction or inoperative due to defect in material or workmanship during such pending 60 months period set forth above, SUNMAN will, at its own option, either repair or replace the Modules in problem, or refund a reasonable portion of the purchase price as paid by the Customer("Purchase Price"). The repair or replacement or refund remedy shall be the sole and exclusive remedy provided under this Limited Warranty.

2. Limited Peak Power Warranty and Limited Remedy SUNMAN warrants the percentage of nominal power output as below:
A. A solar Module's performance warranty will typically guarantee 90% of rated power output at 5 years
B. SUNMAN warrants each Module against defects in materials and workmanship that result in the failure of the Modules to produce the warranted percentage specified above of the nominal power output for the Module set forth in SUNMAN 's product datasheet. If SUNMAN determines in its discretion that any Module is not providing the warranted percentage of the nominal power output due to Modules' defects in material or workmanship attributed to SUNMAN , who will, at its sole option and discretion, either [1] make up such loss in power by providing to Customer additional Modules; or [2] repair or replace the defective Modules including free shipping to the place supplied by SUNMAN ; or [3] refund Customer such loss proportion arising from unqualified power output which less than the warranted percentage of the nominal power. The remedies set forth in Section 2 are the sole and exclusive remedies provided under the limited minimum Peak Power Warranty.

3. Exclusions and Limitations;
A. Warranty claims, in any event, shall be filed in writing to SUNMAN or its authorized distributors within the applicable warranting period
B. These Limited Warranties will not be applied to normal wear and tear, to the natural effects of exposure to weather conditions over time, or to the Modules which under SUNMAN's sole judgment have been subjected to:
Misuse, abuse, neglect, vandalism or accident;
Alteration, improper installation or application;
Repair or modifications that do not strictly follow the manufacturer's instructions;
Non-observance of SUNMAN's maintenance instructions;
Power failure, electrical spikes or surges, lighting, flood, fire, accidental breakage or other events outside the control of SUNMAN.
C. These Limited Warranties only cover the transportation costs for shipment of any repaired or replaced Modules to the place applied by SUNMAN. Any costs for returning the Modules to SUNMAN or its authorized agents and authorized distributors, or costs associated with installation, removal or reinstallation of the Modules, shall be borne by the end user Customers.
D. Warranty claims will not be honored if the type or serial number of SUNMAN Modules have been
altered, removed or made illegible without written authorization from SUNMAN.

4. Transferability
This warranty is extended to the original end-user purchaser, and is also transferable to any subsequent owner of the location or holder of the product when Module(s) remain at their original installed location upon satisfactory proof of succession or assignment.

5. Obtaining Warranty Performance
In order to obtain warranty service under the SUNMAN Limited Warranty, the end user Customer should promptly notify SUNMAN regional customer service center. Together with the notification, the complete serial number printed on the module label and the shipment date of its Modules shall be marked as well. If the Modules will be returned for inspection, repair or replacement by SUNMAN, SUNMAN will give the Customer a Return Merchandise Authorization (RMA). However, SUNMAN will not accept a return of any Modules without a RMA.

6. Disputes
No action, regardless of form, arising out of or in any way connected with this Limited Warranty, may be brought by the end user Customer more than one (1) year from the date when causes of action occurred.

7. Various
The repair or replacement of the Modules or the supply of additional Modules does not lead to a new
commencement of warranty terms, nor shall the original terms of this Limited Warranty be extended.
Any replaced Modules shall become the property of SUNMAN. SUNMAN shall at its own options to
deliver another type of PV Modules (different in size, color, shape, or power), either a new brand or the
original one, in case of that SUNMAN has discontinued producing the module in question at the time of
the claim.

8. Force Majeure
SUNMAN shall not be in any way be responsible or liable to the end user Customer or any third-party arising out of any non-performance or delay in performance of any terms and conditions of sale, including this Limited Warranty, due to fire, flood, blizzard, hurricane, thunder, acts of God, changes of public policies, terrorism, war, riots, strikes, unavailability of suitable and sufficient labor or materials and other events which are out of control of SUNMAN.

NOTE: "Peak Power" is the power in watt peak that a PV-module generates in its maximum power point. SUNMAN measurements are as follows (a) light spectrum of AM 1.5, (b) an irradiation of 1,000W per m2 and (c) a cell temperature of 25 degree Centigrade. The measurements are carried out in accordance with IEC61215 as tested at the junction box terminals per the calibration and testing standards of SUNMAN valid at the date of manufacture of the PV-Modules. SUNMAN's calibration standards shall be in compliance with the standards applied by international institutions accredited for this purpose.
---
Or Swap To:
---
Others Also Bought
---
More From This Category