Defence vehicles and equipment
Author: Defence vehicles and equipment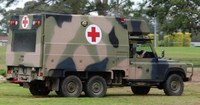 Land and water based vehicles and military equipment have control systems that require the use of stored energy systems. Unobtrusive, low-profile and robust solar panels can provide a way of charging vehicle and equipment battery systems to support navigation and communications equipment, and can mitigate the use of noisy generators and the electricity grid.
Applications include:
Assault vehicles
Ambulance vehicles
Cargo trucks
Armoured Vehicles
Personnel carriers
Surveillance and Reconnaissance Vehicles
All terrain vehicles
Cargo cranes
Marine support vessels
Marine patrol vessels
Marine Evacuation Systems
Unmanned Aerial Vehicles (UAVs)
Unmanned Aircraft System
Robotic targets
Solar 4 RVs founder and co-owner Phil Chapallaz has extensive experience in the defence industry through his career at BAE systems where he was involved in the system design and engineering management on a range of defence and commercial projects including unmanned aerial vehicles, exercise mines and communications systems.
Phil was Project Manager for the JORN (Jindalee Over-the-horizen Radar Network) Project and Integration Manager for the Australian Navy Landing Helicopter Dock (LHD) Project which provided the largest vessels ever operated by the Royal Australian Navy to upgrade the navy's amphibious fleet. Read Phil's biography here.