RV Tank Level Monitoring Systems
Popular Items
---
Tank sensors provide precise level measuring of diesel, water and hydrous media (fresh water, grey water, industrial water, faeces) in metal or plastic tanks. Combined with the displays it provides precise level measuring information.
The measured value is sensed electronically and the signal sent to the display unit by two cables.
Tank Measuring Sensor:
Suitable for plastic and metal tanks;
Insensitive to soiling and deposits in water;
No mechanical moving parts;
Sensors work independently of pressure;
Robust fully-electronic capacitive measuring method. The electronic system (IP 67) is sealed and frost-proof;
Stick probe or flexible cord probe for various installation possibilities, tank heights and mounting situations at the tank. Both stick and cord can be easily cut to tank height.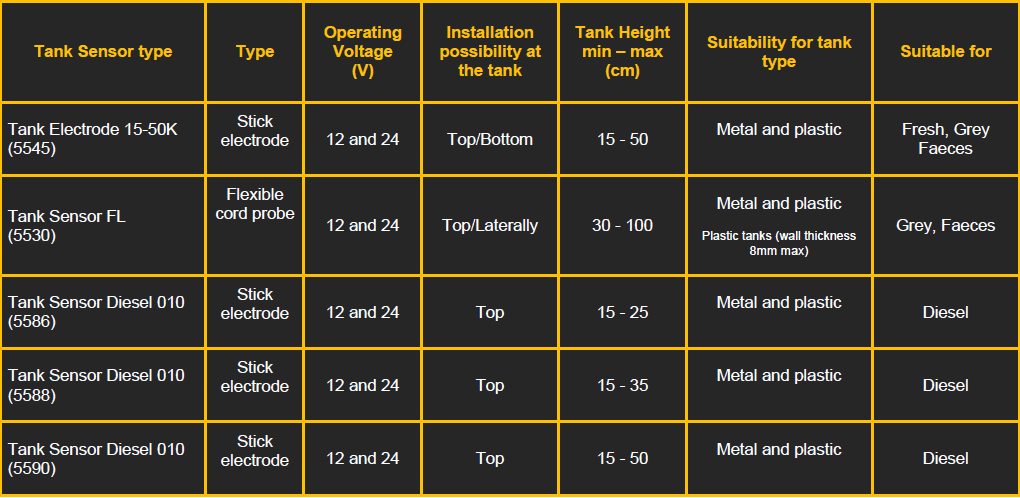 Tank Measure Display:
Choose the tank display to suit your sensor.
The tank displays are suitable for any tank material and tank size.
The clearly arranged luminous bar with 10 light emitting diodes in three colours allow the tank levels to be read conveniently at a glance.

Votronic products are made in Germany.