Daly
Popular Items
---
Dongguan Daly Electronics Co., Ltd is located in Dongguan, It is a high-tech company specializing in R&D, production and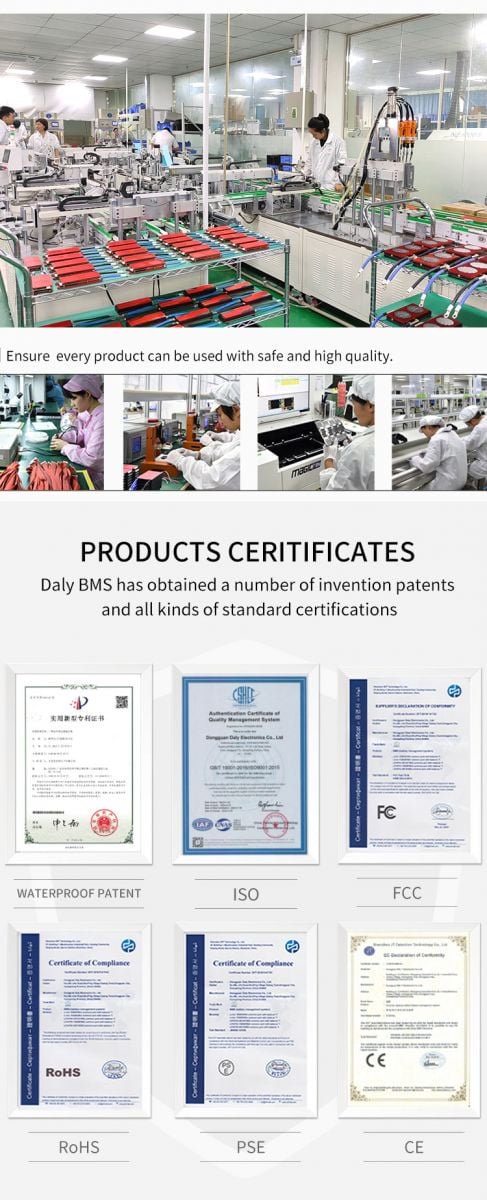 sales of lithium battery protection board (BMS). "Only safety, not to be" is the quality policy that Daly always implements. The company has an internationally standardized quality management system.

Daly has a high-quality R&D, production and management team with rich professional theoretical knowledge, product design and production management experience. The company also has several senior engineers and senior experts who specialize in the battery management system (BMS) industry for more than ten years. They are dedicated to product research and development, and have participated in the preparation and preparation of lithium battery technology series. [Lithium Battery Management System Detailed Explanation], [Lithium Battery PACK Daquan and industry related national standards (GB). The company has a complete standard testing laboratory, dozens of lithium battery protection board testing, aging, reliability testing equipment, providing reliable quality assurance for product testing and inspection.

Daly adheres to the talent management concept of "taking people first, only talent is wise", adhering to the value concept of "learning power is the competitiveness of the future". Daly focuses on R&D customers with reliable protection boards. Lithium has advanced production equipment, a sound production line, and an annual production capacity of 6 million sheets. The products are complete.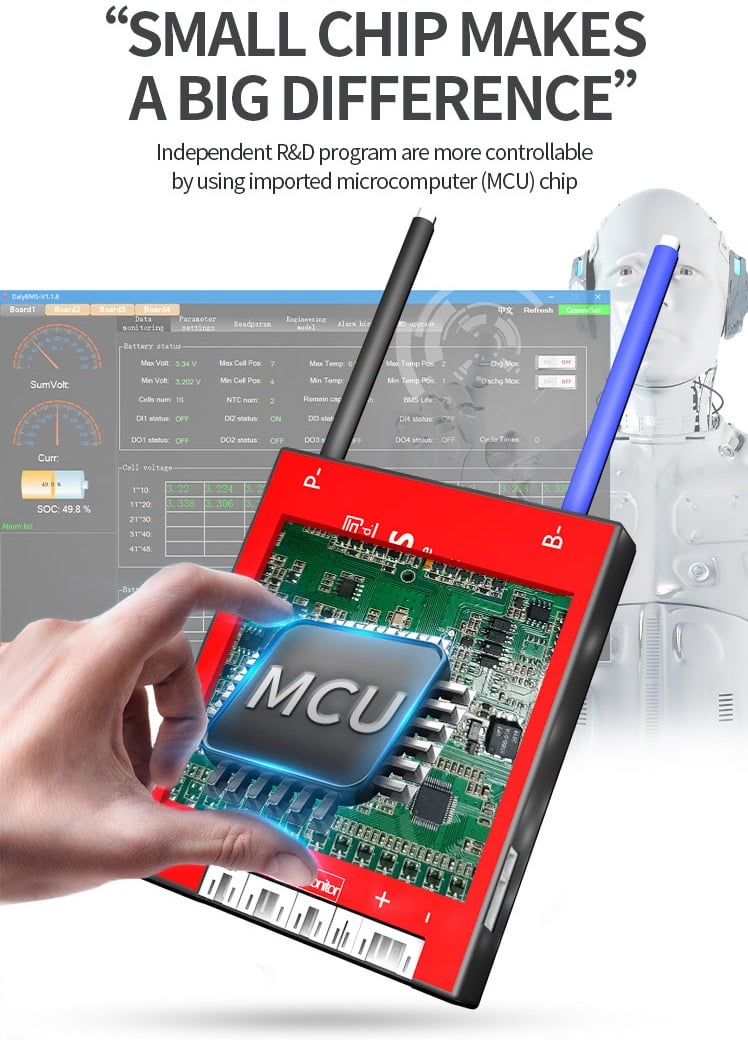 The product covers the battery assembly in series with 1 string - 32 strings, and the lithium battery protection management system with full working current within 250A. The company′s fist products are waterproof small red plates and high current plates, which are widely used in various types of power lithium battery systems such as electric bicycles, electric bicycles, sightseeing cars, golf carts, low-speed electric cars, etc. Other industries such as: Wind energy storage system, home energy storage system, UPS backup power, car start power, communication base station power, mining emergency equipment, solar street lights and other fields. The business scope is based on China and radiates to Japan, South Korea, India, Russia, Spain, the United States, Italy and other overseas countries, and is highly praised by customers all over the world.
Using top quality (A-level) protective integrated circuit IC, from Seiko of Japan. The IC itself has power a balancing function. The circuit is simple and reliable
Strong load ability, high constant discharge current, using high voltage tolerant and ultra low resistance power MOSFETs. Daly's extra large heat sinks and sealed thermal coating greatly assist cooling
Voltage detection for each cell so each cell will be protected from over charge or over discharge. The over current and short circuit protection function is a built-in feature to preserve the life of both the BMS and cells.
Temperature protection during charging and discharging
Extremely low power consumption. The consumption of the whole device is between 50 - 600uA depending on the model without Bluetooth. While the Bluetooth module is on, 15mA.
The PCB uses anti-corrosion, high water resistant, high impedance ESD conformal coating
Program via UART to PC cord or let Solar 4 RVs know your battery capacity and we can program the unit for you
Look up SMART BMS by DalyBMS on the Android Play Store or iOS App Store

Monitor state of charge
Current in/out
Power in/out
Temperature
Charge/discharge MOSFETs open/closed
If balancing
Individual cell voltages, overall voltage, maximum cell voltage, minimum cell voltage, differential voltage