Recreational Vehicles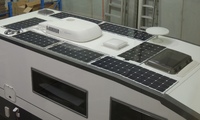 We provide quality solar solutions for all types of RVs including thin, lightweight solar panels and traditional glass framed solar panels.
Caravans
Pop-tops
Motorhomes
Campervans
Camper trailers
Fifth Wheelers
Converted buses
Converted coaches
Combi vans
We specialise in thin lightweight solar panels as the weight savings are significant. Glass topped panels are too heavy for these applications - a 155W rigid panel weighs 10.7kg and is 35cm thick yet a 150W thin solar panel weighs 3.3kg and is 3cm thick and can flex around a curved surface.
The public can also purchase directly from our website. If you wish to install a new solar system or add to an existing system we can advise on compatibility of products.