Management Team
History
In 2013 Phil and Trish bought a new 21ft caravan that they wanted to fit out with a quality solar power system, however, there were no companies offering integrated, customised solutions for off-grid power for caravans and other RVs. They undertook extensive research and produced a business plan to set up a company and register the trading name Solar 4 RVs. Product testing was conducted to ensure their range of integrated products were of the highest quality and specifically suited to caravans and RVs.
The business quickly expanded into marine applications and providing engineered solar power solutions for mobile off-grid industrial applications. They registered the trading names 'Solar 4 Boats' and 'Solar 4 Industry'. The business has one numerous awards recognising the leadership in lightweight solar.
In early 2020 son Chris and his partner Amie became Directors of Solar 4 RVs and took over the day to day management of the business with Phil and Trish providing support. Phil now looks after battery management system sales plus has input into various projects.
Chris and Amie are committed to ensuring customers have complete satisfaction with their solar power purchase. Their matching work ethics and complementary skill sets are the key to their success.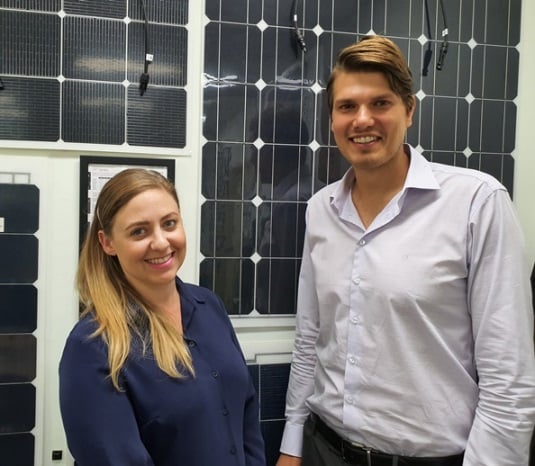 Image: Amie and Chris in the showroom
Chris Chapallaz
Chris has been a qualified electrician since 2008. Starting his career in the residential industry, he was involved in both the design and install of solar systems and other domestic installs. Taking advantage of the mining boom, Chris relocated from Melbourne to Perth where his skills were utilised in the maintenance and repair of mine site large diesel-electric vehicles.
Chris then transferred to the role of Electrical and Instrumentation Technician at a large scale combined cycle power station. Whilst working full time, Chris has furthered his studies and completed an Associate's degree in Electrical & Electronics. He has a passion for learning and is now studying to complete his degree following in his father's footsteps by becoming an Electrical Engineer. Chris has a particular interest in problem-solving and renewables.
Now back in Melbourne Chris is dedicated to ensuring a good customer service experience and growing the family business product range.
Amie Wilkinson
Prior to joining Solar 4 RVs in Melbourne, Amie was employed as Administration Manager at one of the largest independent finance broking firms in WA. There she spent over 10 years responsible for a wide range of tasks including management, preparing loan documentation, compliance, marketing, IT and accounts.
Amie enjoys being in a position to look at companies from a holistic perspective in order to implement strategies improving efficiency and profitability. This previous role was both fast paced and detail orientated, an attitude Amie brings with her to Solar 4 RVs.
With a passion for all things environmental, Amie can now combine her employment ambitions with an industry aligning to her core values.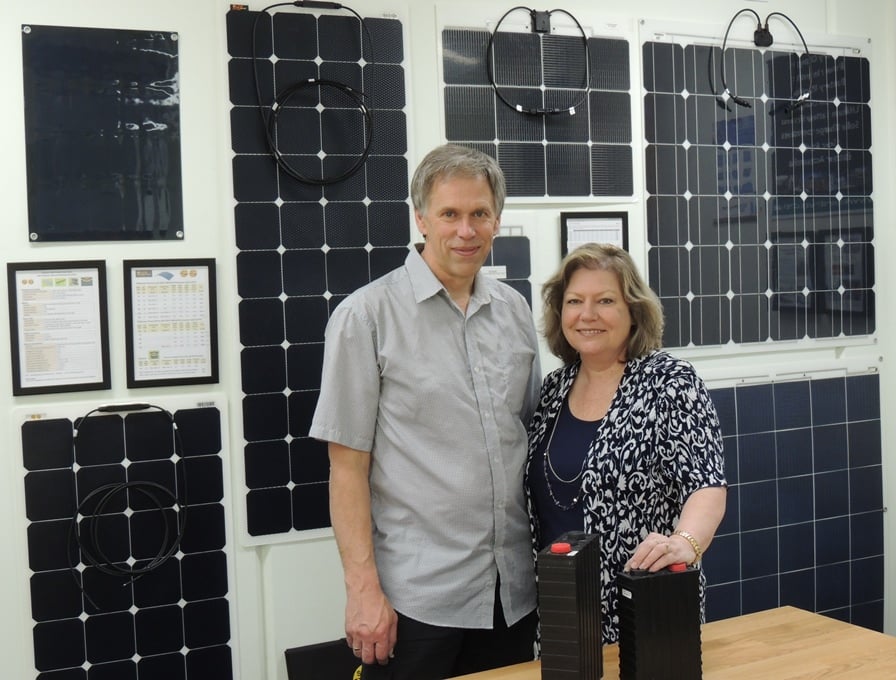 Image: Phil and Trish in the showroom
Phil Chapallaz
As a Marine Engineer, and Chartered Engineer with a First Class Honours Degree in Electrical and Electronic Engineering Phil has demonstrated the practical and academic capability to understand complex systems and issues and develop an engineering solution that meets customer's needs at delivery and into the future. Phil also enjoys working with people and businesses to provide solutions to suit their particular requirements.
Phil commenced his working life with the P&O shipping Company in the UK initially as a Cadet and progressing to a 2nd Engineer, sailing around the globe as a marine engineer on ships ranging from cruise ships, LPG tankers and general cargo ships to very large crude oil tankers.
After full time study at university in the UK to complete his electrical and electronic engineering degree, Phil became a Systems Engineer designing, integrating and testing instrumentation tracking radars. He subsequently landed on Australian shores as a radar systems engineer to work on the Jindalee Over the Horizon Radar Network (JORN) as Project Manager. An original 18 month contract in Australia turned into 5 years and subsequently permanent residency and citizenship. Responsibility grew with key design responsibility in areas such as radar and signal processing, plus integration and test lead responsibilities at radar sites in outback Queensland and WA. By this time 11 years had passed on the project.
Phil remained in Australia involved in the system design and engineering management on a range of defence and commercial projects including unmanned aerial vehicles, exercise mines and communications systems.
In 2009 Phil began working on the Australian Navy Landing Helicopter Dock (LHD) Project as Integration Manager. The Canberra Class of two LHDs (HMAS Canberra and HMAS Adelaide) has upgraded the navy's amphibious fleet and are the largest vessels ever operated by the Royal Australian Navy.
Phil retired from this position in December 2012. He has a passion for problem solving and thinking outside the square to develop novel solutions that has resulted in retirement lasting less than a year and Solar 4 RVs was launched.​ Phil now supports son Chris in undertaking research, testing and field trials to ensure Solar 4 RVs provides accurate technical information and guidance.
Trish Chapallaz
Trish's skills in marketing, business innovation, business systems design, Occupational Health and Safety (OHS) and public speaking are being well utilised in Solar 4 RVs. She has a Master Degree in Professional Education and Training, a Diploma in Business (Frontline Management), an Advanced Certificate in Information Technology plus other qualifications.
Nursing was Trish's first career but then she entered the field of Human Resource. After fulfilling the role of Acting Group Personnel Manager for a manufacturing group of five companies Trish set up her own business, 'HR Management Consultants'.
The business focussed on developing and delivering innovative and creative professional development and leadership programs for organisations, as well as assisting Learning Centres to set-up accredited training programs. During this period Trish was also President and Chairperson of a Neighbourhood House for two years supporting their strategic transition to becoming a Registered Training Organisation (RTO).
After 10 years of running her own business Trish undertook a two-fold role as Training Manager plus managing 120 Networkers in 34 teams across seven programs in the Supreme Court, County Court, Melbourne Magistrate's Court and the Coroner's Court.
In 2003 Trish accepted the role of Manager Learning and Development with MECWA a provider of residential aged care, community care, home nursing, planned activity groups, food services, disability and dementia care. She designed and implemented a coordinated framework for Learning Pathways which was recognised through a number of awards. Trish also accepted the portfolio of OHS and project managed the Certification of their OHS Management System against AS/NZS 4801:2001.
After three years with a private RTO as Director Education and Acting Chief Executive Officer during CEO absences Trish was appointed Director Learning of the School of Health and Community at Swinburne University of Technology and subsequently Director Learning for the School for Sustainable Futures managing a budget of $23 Million and over 80 staff. Trish retired from this position in January 2013 but that didn't last long when they identified a need for lightweight solar power.
As well as managing Solar 4 RVs business operations Trish enjoys her guest speaker commitments and has been a mentor for the Australian Women in Resource Alliance (AWRA) e-Mentoring Program providing professional development opportunities to women in the resource, allied and related construction industries. As a mentor she offered practical insights to assist mentees navigate their current workplace challenges and assist with their career journey. Trish has mentored many graduates and up-and-coming managers over a 30 year period and developed a number of mentoring programs during that time.
Trish Chapallaz won the prestigious Australian Businesswoman of the year award in November 2019. With ten deserving finalists in the running for the title she was honoured to be recognised for her career achievements.
Trish now takes a back seat with Amie taking the admin reins.