Votronic Monitors
Popular Items
---
Minimum Price
Maximum Price
Precision and Reliability with Votronic Battery Monitors
At Solar 4 RVs, we stock a range of Votronic Battery Monitors, known for their precision and reliability. Votronic is a trusted brand in the industry, providing excellent solutions for monitoring your battery's health and charge.
Monitor Your Battery's Status with Ease
Our Votronic Battery Monitors allow you to easily keep an eye on the charge status of your battery. These monitors provide precise information, such as the current charge level, the current power consumption, and the remaining running time.
High-Quality Products for Diverse Needs
Whether you are in a recreational vehicle, a boat, or an off-grid solar power setup, Votronic Battery Monitors cater to a variety of needs. Their products are durable, high-quality, and designed to provide accurate information.
Invest in Your Battery's Longevity
Using a Votronic Battery Monitor can help prolong the lifespan of your battery by ensuring that it's never overcharged or depleted. Invest in your battery's longevity with our collection of Votronic Battery Monitors.
Votronic Tank Level Measurement
Tank sensors provide precise level measuring of diesel, water and hydrous media (fresh water, grey water, industrial water, faeces) in metal or plastic tanks. Combined with the displays it provides precise level measuring information.
The measured value is sensed electronically and the signal sent to the display unit by two cables.
Tank Measuring Sensor:
Suitable for plastic and metal tanks;
Insensitive to soiling and deposits in water;
No mechanical moving parts;
Sensors work independently of pressure;
Robust fully-electronic capacitive measuring method. The electronic system (IP 67) is sealed and frost-proof;
Stick probe or flexible cord probe for various installation possibilities, tank heights and mounting situations at the tank. Both stick and cord can be easily cut to tank height.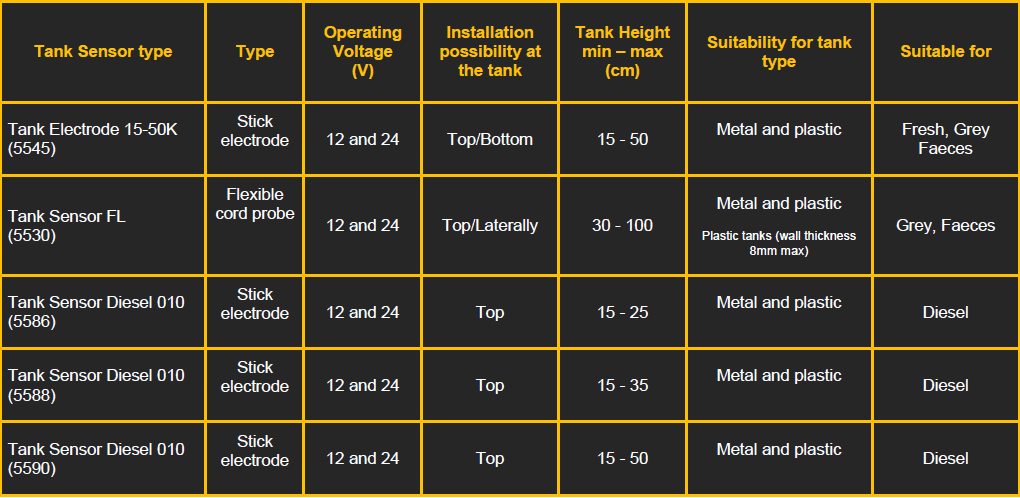 Tank Measure Display:
Choose the tank display to suit your sensor.
The tank displays are suitable for any tank material and tank size.
The clearly arranged luminous bar with 10 light emitting diodes in three colours allow the tank levels to be read conveniently at a glance.

Votronic products are made in Germany.