Awards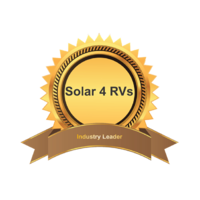 Solar 4 RVs has been recognised through a number of national and state awards. We are proud to be recognised by industry and government as a professional company that is innovative and focussed on quality.
Solar 4 RVs wins 2018 Australian Business Award for Eco Innovation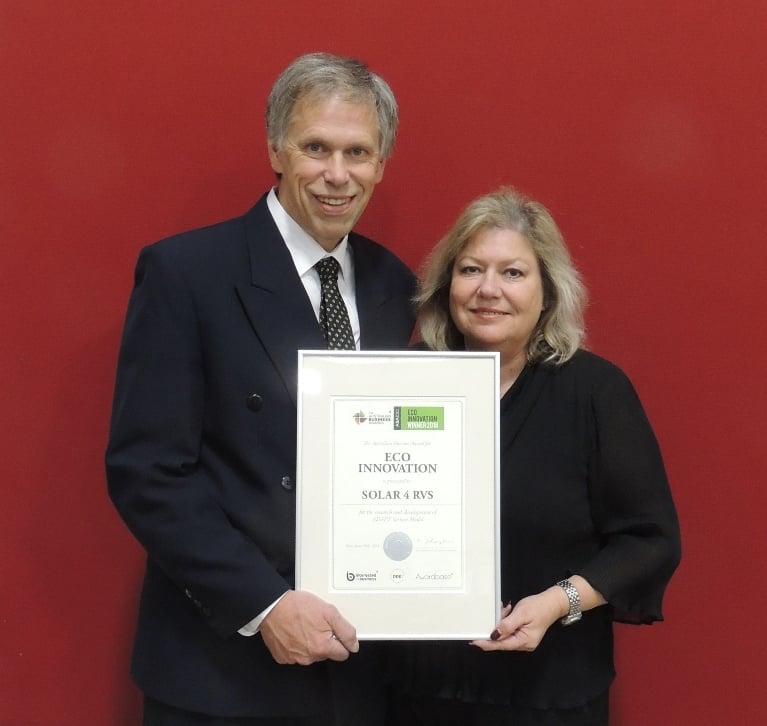 Solar 4 RVs has been recognised as an ABA100 Winner for ECO Innovation in The Australian Business Awards 2018.
The Australian Business Awards are part of an international awards program recognising organisations that are world industry leaders demonstrating business excellence, product excellence, sustainability and commercial success in their respective industries.
Conducted annually, using a rigorous framework of assessment and benchmarking, the Awards honour innovative business processes, product development, enterprise, sustainability and overall business success.
Eco Innovation
The Eco Innovation category recognises environmentally conscious products and services that provide innovative solutions for new and existing market needs. Solar 4 RVs is honoured to receive this prestigious award and to be recognised for its sector leadership in the provision of lightweight, thin solar panels for off-grid mobile applications and providing a unique suite of coordinated services and products with the latest technology to RV and boat manufacturers, industry and the public.
Solar 4 RVs will now be benchmarked in the international chapter of the program - the 2018 World Business Awards.
Solar 4 RVs wins place in the top 50 on Anthill's 2018 Australian SMART100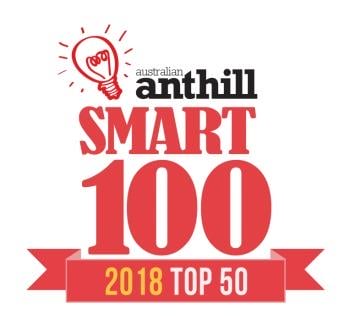 Solar 4 RVs has been ranked as one of the top 50 innovative companies in Australia. The spot on the SMART 100 was awarded for the 'specialist service model for off-grid mobile solar'
Anthill's SMART100 are chosen for the unique nature of the innovations and for their ability to achieve consumer adoption and commercial success.
In order to rank the Top 100, 'maven' judges (experts in a particular field) are engaged to evaluate and rank companies and their innovations across eight criteria.
Solar 4 RVs wins 2018 APAC Australian Excellence Award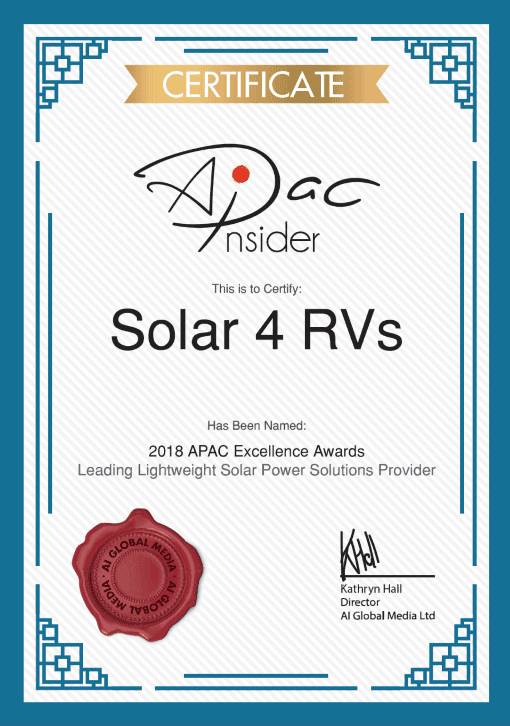 Solar 4 RVs are recipients of the APAC Insider's 2018 APAC Excellence Award for 'Leading Lightweight Solar Power Solutions Provider'.
The APAC Insider Awards highlight companies with a commitment, enthusiasm, expertise and willingness to do things differently, are rewriting their industry's rule book while achieving incredible results, both for their clients and themselves.
It was a surprise announcement by the judging panel as we did not know we had been nominated.
Solar 4 RVs is a 2018 Australian Small Business Champions Awards Finalist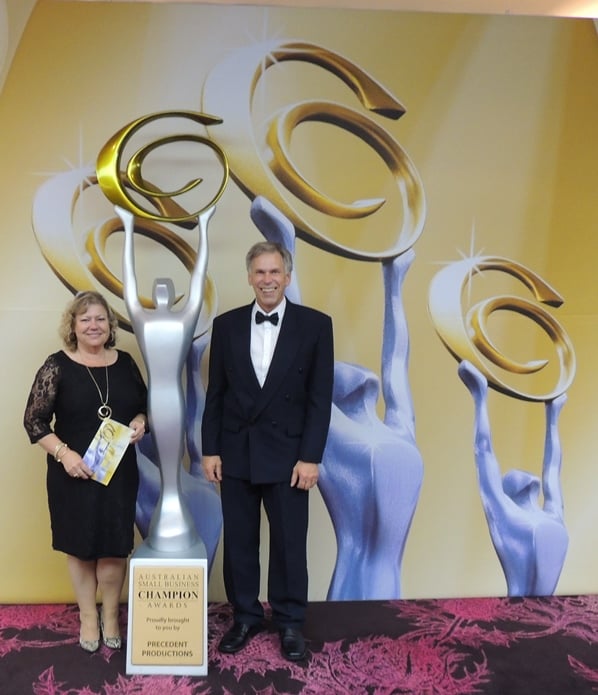 Solar 4 RVs has been selected from over 2000 nominations across Australia as a finalist in two categories of the prestigious Australian Small Business Champion awards considered the 'Oscars of Small Business'.
Founders and Owners Phil and Trish Chapallaz travelled to Sydney for the awards ceremony held at The Star Event Centre.
The The two categories are 'Specialist Small Business' and 'Business Growth'.
The Awards recognise the hard work and dedication required to produce the levels of business success needed to thrive.
Solar 4 RVs wins 2017 Australian Retail Business of the Year Award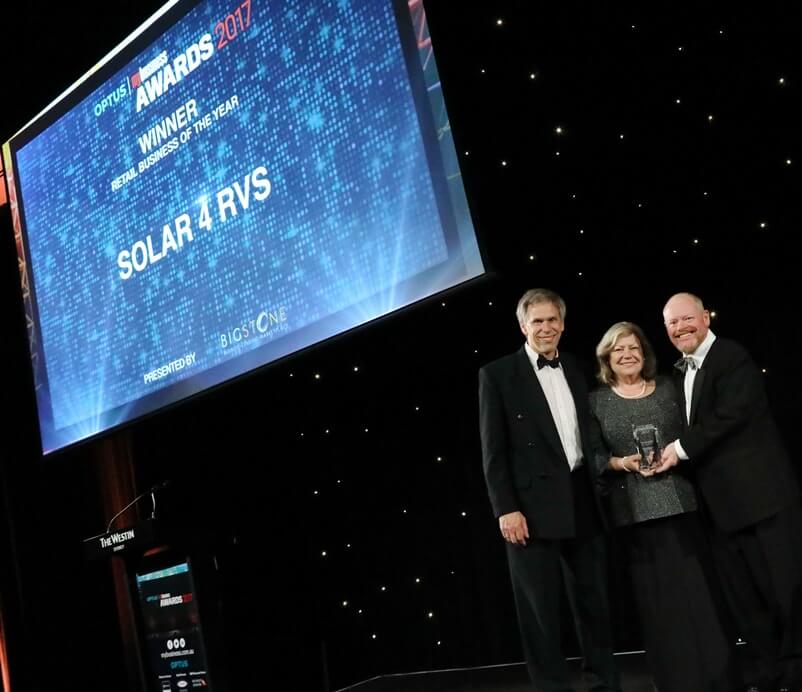 Solar 4 RVs was announced as the winner of the prestigious Optus My Business Award in the category Australian 'Retail Business of the Year' on Friday 10 November.
The Optus My Business Awards, which covers 28 categories, is the longest-standing business awards program in Australia.
Founders and Owners Phil and Trish Chapallaz travelled to Sydney for the awards ceremony held at The Westin Grand Ballroom. The judges selected Solar 4 RVs from 7 Finalists as an industry leader that demonstrates innovation and exemplifies best practice and excellence in customer service.
The My Business Awards team contacted Solar 4 RVs back in in August to advise they had been nominated and they were subsequently shortlisted as a finalist.
Trish Chapallaz is Finalist in 2016 'Women in Industry Awards'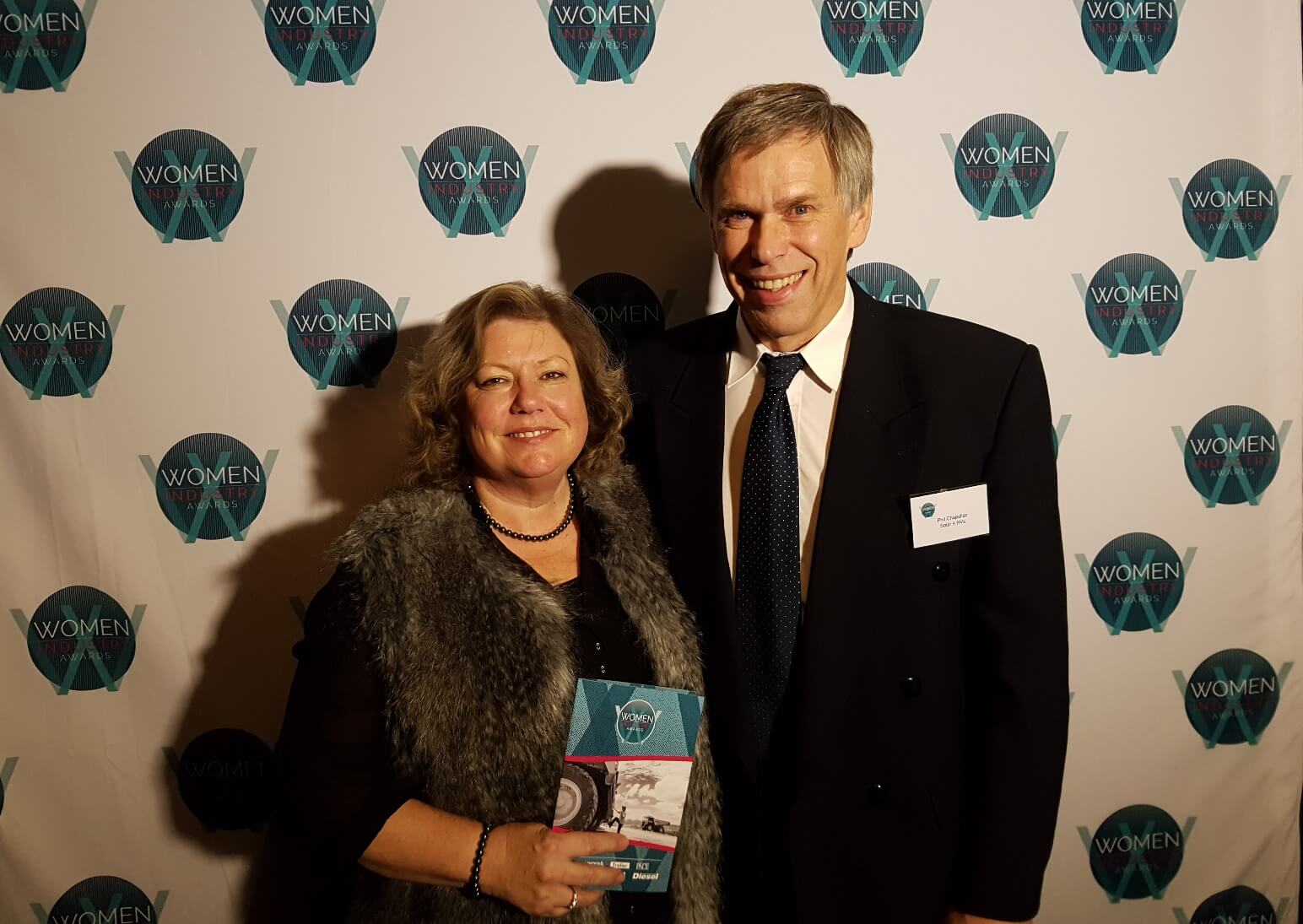 Co-owner/Founder Trish has been announced as a Finalist in the 'Business Development Manager of the Year' category which recognises the achievements of women working in any Australian industrial sector.
A diverse range of very successful women across the engineering, mining, manufacturing and commercial road transport industries were nominated.
"The awards acknowledge exceptional women who have achieved success through their invaluable leadership, innovation and commitment to their sector. They recognise women who are driving change, and in doing so, are breaking down barriers and creating new possibilities for the next generation. These women are inspiring others, providing invaluable guidance and support and their dedication and exceptionalism is celebrated."
Solar 4 RVs wins Australian 'Sustainability Initiative of the Year' 2015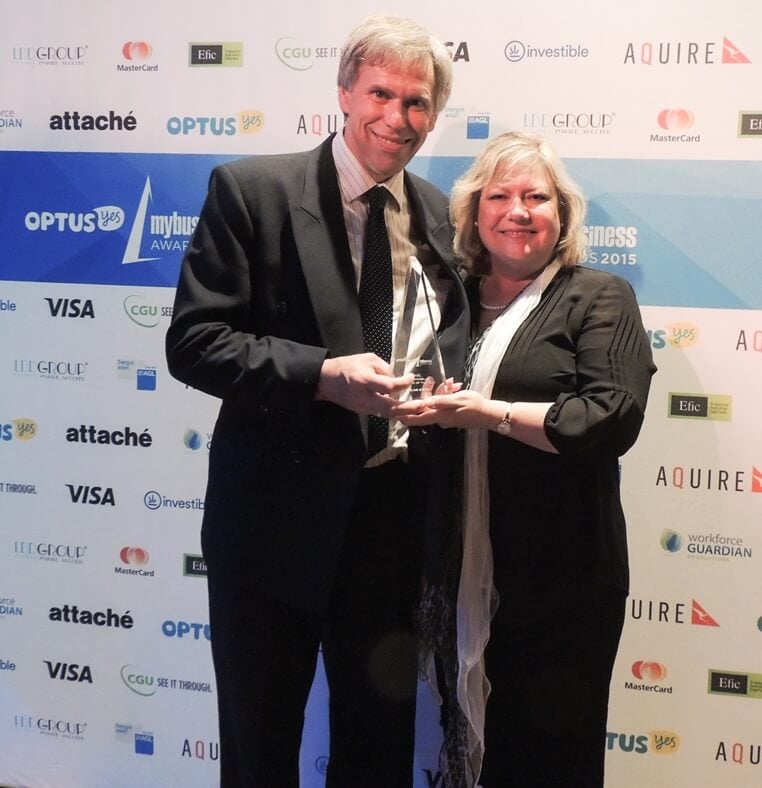 Solar 4 RVs was announced the winner of the prestigious national '2015 Optus MyBusiness Awards' in Sydney on Friday 13th November at Doltone House Hyde Park in the 'Sustainability Initiative of the Year' category.
The Australian My Business Awards is in its 15th consecutive year and recognises the achievements of small and medium businesses across Australia. The night was hosted by finance commentator and My Business magazine columnist Michael Pascoe.
Previous MyBusiness Award winners that have since gone on to become iconic brands and household names include Boost Juice, Red Balloon, Sumo Salad, H2Coco, ModelCo, Sign-A-Rama and Roses.
Phil and Trish travelled to Sydney for the awards after being announced as a Finalist.
Solar 4 RVs chosen as Victorian 2015 Face of Small Business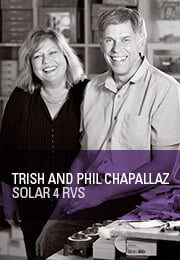 Solar 4RVs was selected by Small Business Victoria to be showcased at the Faces of Small Business Exhibition. ​
The exhibition, which is part of the Victorian Small Business Festival, profiles 10 successful small businesses from across the state. This year the exhibition showcases "responsible, ethical and sustainable businesses that are doing good deeds for their staff, their customers, their environment, their community, and their world".
The exhibition celebrates small business success; acknowledges the contribution that small business makes to the Victorian economy and community; and brings awareness to the services that the Victorian Government provides. ​The annual Victorian Small Business Festival takes place during August in Melbourne and across regional Victoria.
Solar 4 RVs featured as Victorian business success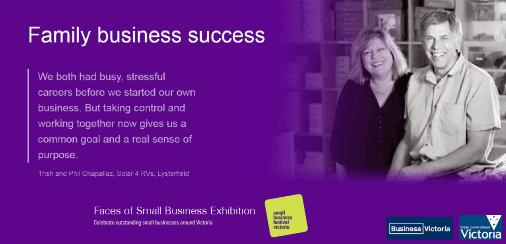 The Victorian Government website www.business.vic.gov.au has dedicated a page to Solar 4 RVs as a small business success story.
Business Victoria website is published by the State Government of Victoria, Australia and is managed by the Department of Economic Development, Jobs, Transport and Resources (DEDJTR).
Solar 4 RVs wins 3AW, Momentum Energy Small Business Success Award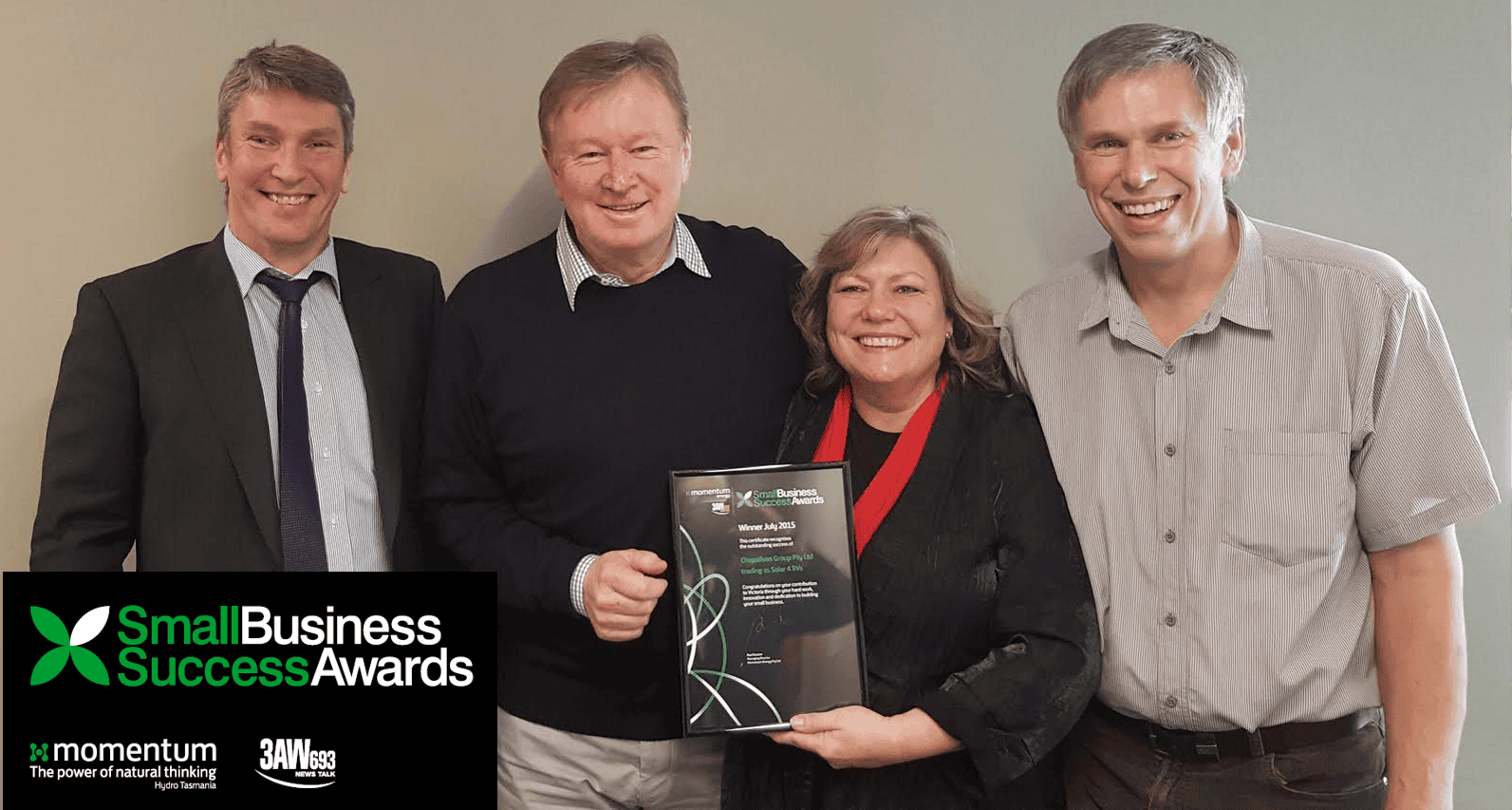 Solar 4 RVs™ was announced as the winner of the 3AW, Momentum Energy Small Business Success Award in July 2015 on the Denis Walter afternoon show in the 3AW studio.
Denis enthusiastically spoke to owners Phil and Trish on air about their solar products for over 6 minutes and they even took a call from a listener. You can watch and listen to the broadcast on https://youtu.be/uKmoF9YOkM8 or by clicking on the photos.