Diesel Locomotives and Trucks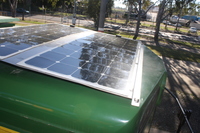 There can be a significant Return on Investment (ROI) by installing solar power.
For example, installing solar on a diesel locomotive means that staff no longer have to regularly run the diesel engine, or attach a mains battery charger, to recharge flat batteries if the locomotive has not used for several weeks.
Solar charging reduces diesel consumption, extended the battery life, and improved productivity.