Solar Panel Selector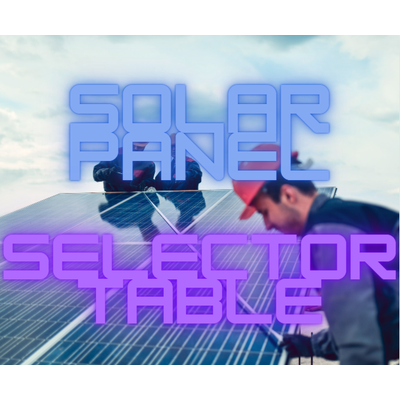 The table contains all standard stock panels. Small quantities of other sizes may be available in the Solbian All-in-One range, in Clearance, or unlisted, please call or email to ask for a specific size.
When selecting a panel, check the Voc, Vmp and Isc are compatible with the requirements of your charge controller.
To filter the panels use left mouse button to toggle values. Or use buttons to toggle all unfiltered values in a column (just try - it's quite simple)
Note that it's possible to filter out values and not get them back - click this to reset all filters
half
Any Brand mono 6inch
Lightweight
Conventional
eArche mono 5inch
eArche mono 6inch
Gioco mono 6inch
Gioco mono 5inch
Solbian Sunpower (5inch)
Solbian SX mono 6inch
Solbian SXX mono 6inch
Solbian SR mono 6inch
full
Brand:
Watts:
Panel Type:
JB Side:
Panel Edge:
Length:
Width:
Number of cells:
Weight:
Vmp:
Imp:
Voc:
Isc: