Revolutionary lightweight solar system installation
Date Posted:14 August 2019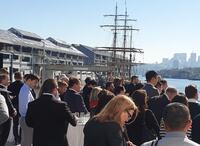 Official launch of lightweight eArche solar panels onto Sydney Maritime Museum
812 lightweight, thin eArche panels have been installed on the Australian National Maritime Museum's Wharf 7 Maritime Heritage Centre building in Darling Harbour providing a 235kW solar system.
As the seller of eArche to the mobile market, Solar 4 RVs owner Phil was invited to the official launch in Sydney on Wednesday 14 August where the solar system was switched on with expectations of cutting electricity consumption by approximately 25%, or $50,000 a year.
When lightweight structures cannot support glass solar panels!
Built in 1991 Wharf 7 houses restoration workshops, a maritime library, a vast exhibition space, and tenanted commercial areas. Its lightweight construction could not support traditional heavy glass panels, plus it has a 30-degree roof pitch, and glass panels on that surface would have projected unacceptable glare into surrounding residential and commercial buildings.
Many residential and commercial rooftops around the country enough space to take generous arrays of panels however they are just not structurally capable of carrying the weight. Likewise RVs and boats having towing capacity to consider and lightweight panels are the preferred option.
With a 60-cell glass-and-aluminium residential module weighing about 17kg, and a larger 72-cell commercial panel weighing around 22kg, large arrays can add tonnes of extra mass to roofs.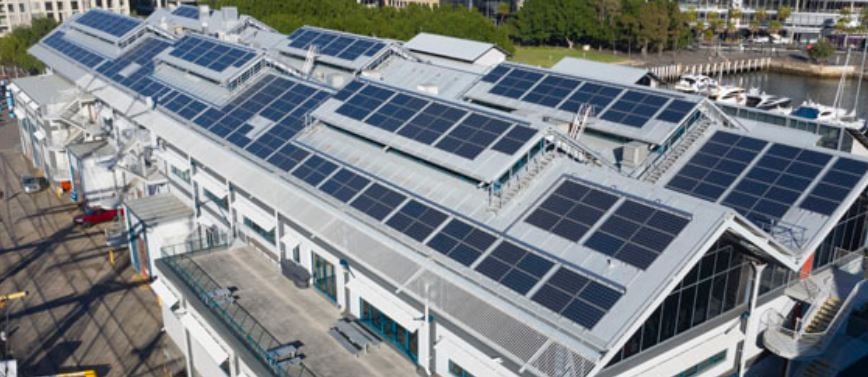 Development of lightweight thin eArche solar panels
Where there's a challenge, there's always an opportunity for someone to come up with a solution. Dr Shi, who has a PhD from the University of New South Wales (UNSW) developed eArche after already having 60 patents in photovoltaic technology to his credit. Development of eArche has been supported by the Australian Renewable Energy Agency (ARENA).
The eArche panel achieves 22% efficiency like many of its heavier peers, but is lighter. The smaller size option suitable for caravans is 160W and weighs only 2.9kg.
A textured surface removes gloss resolving the problem of glare.
eArche Accreditation and certifications
Even though there are other lightweight panels on the market, eArche is the only product with the International Electrotechnical Commission's certification IEC 61215, which defines requirements for PV modules suitable for long-term outdoor operation. The panels are rated at 2400 pascals for wind and 2400 pascals for load and come with a 25 year performance guarantee. The product warranty is 10 years for buildings and 5 years for mobile applications. They are the only lightweight panel accredited by the Australian Clean Energy Council (CEC).
eArche available through Solar 4 RVs
eArche solar panels are becoming the solar panel of choice for installations on caravans,campers and other mobile applications. In fact they have become so popular that Solar 4 RVs is waiting on their next shipment as stocks have sold out from their warehouse. Being lighter, thinner and stronger means they are robust for the rigours of travel.
Solar 4 RVs has been selling the eArche brand for over a year with no issues reported and many happy customers. The patented tough, textured, glass fibre-reinforced surface (similar to aircraft windows) in particular has been a bit hit wth customers.
For further information see on eArche lightweight solar panels click here
Image: Phil Chapallaz with Dr Shi at the launch of the eArche installation at the Australian National Maritime Museum's Wharf 7 Maritime Heritage Centre building in Darling Harbour.