Portable Solar Panels
​
NEW eArche portable fold-up solar panel
5 year warranty
Tough
Lightweight - 5kg
Value for money
Super Tough and Lightweight
This compact 160W solar panel uses the same high grade efficient monocrystalline solar cells that are used in the eArche lightweight solar panel range. eArche solar panels are used extensively in architecture and are the only lightweight solar panel approved by the Australian Clean Energy Council.

The robust construction of eArche (pronounced e-Ark) solar panels uses a Patent Pending glass-fibre reinforced composite material similar to that used in airplane windows.
Made with 36 solar cells in three sections of 12 solar cells each fold into a compact carry bag with handle that is easy to carry and store and weighs only 5kg.
Dimensions folded - 670 x 540 x 18 mm
Dimensions un-folded - 670 x 2030 x 5 mm
The functional storage pouch keeps the cables and solar charge controller neatly protected and stored when not in use.
High Efficiency
The output warranty is the same as high grade rigid solar panels used on buildings: above 80% of the original power by the 25th year.
Unfolded, without shade this panel can produce more than 500wh per day in most areas.
Durable
The top encapsulation layer is a high-strength fluorine polymer that is corrosion and stain resistant, non-stick self-cleaning, and retains its clarity (and therefore light transmittance) ensuring long service life for solar panels.

It will not discolour or degrade from exposure to environmental pollution, UV light, harsh chemicals or extreme temperature variations.

The surface texture is extremely tough.
Accessories
Cables have compact, lightweight mini-Anderson connectors
Included: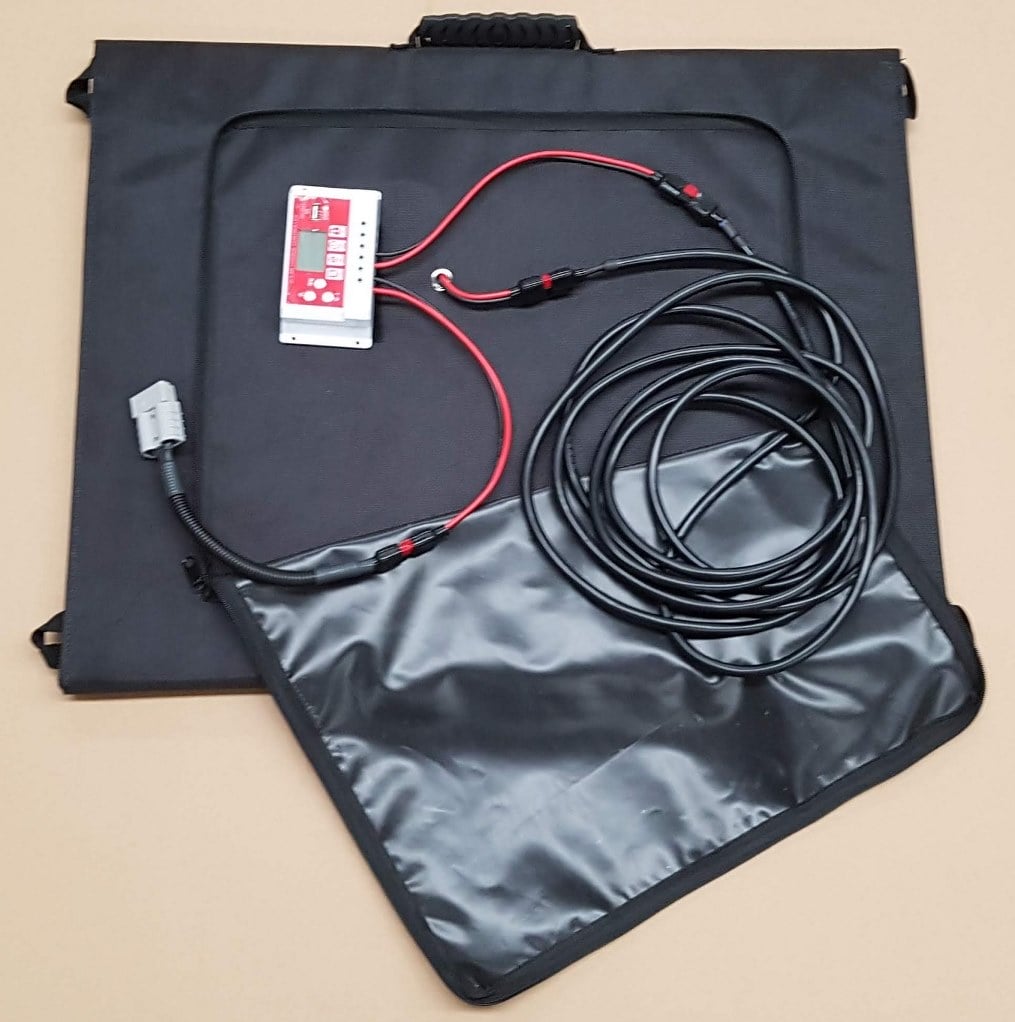 1. Solar charge controller - 2 options
PWM 10A charge controller with LCD display (1 year warranty); Attached with velcro so removable.
OR
Victron 15A MPPT SmartSolar with built-in bluetooth to connect to the Victron app via a smartphone/device so you can set-up, monitor and update the controller (5 year warranty)
2. extension cable (5m) lets you be in the shade while the solar panels work for you out in the sun.
3. Standard grey Anderson adapter lead for connection to your battery (or Alligator clips available on request)

CLICK HERE for our range of lightweight eArche solar panels suitable for permanent installation
eArche lightweight solar panels are unique:
Cutting edge technology - glass fibre-reinforced composite polymers similar to aircraft windows

Thin - 2mm

Tough -

Hail tested with ice stones of 35mm diameter and 200g mass at 39.5m per sec​

Strong - rated 2400 pascals for wind and 2400 pascals for load

5 years warranty for mobile application

Output - Efficient monocrystalline cells, 25 year performance guarantee

The only lightweight solar panel with Clean Energy Council (CEC) Accreditation

The only lightweight solar panel with International Electrotechnical Commission's certification IEC 61215*
*IEC 61215 defines requirements for PV modules suitable for long-term outdoor operation.
​Development of the new waterproof composite polymers and panel structure was accelerated by funding of $3.3M from the Australian Renewable Energy Agency (ARENA) to achieve the same durability as conventional solar panels.
eArche panels are accredited by the Clean Energy Council for residential and commercial buildings and has been installed on the world's first solar powered train in Byron Bay and 812 (235kW) panels have been installed onto the Sydney Maritime Museum's Heritage Building which could not support heavy glass framed solar panels. To date more than 1MW of eArche capacity has been installed in Australia
eArche has obtained a series of certifications for reliability, including:

---