REC Active Balancing BMS for 4 cells configurable kit
For standalone or Victron GX systems by firmware version
REC Active Balancing BMS for 4 cells configurable kit
For standalone or Victron GX systems by firmware version
Free AusPost shipping for orders over $100 on most items to most areas. Calculate shipping in cart for more details.
RRP $599.00
$529.00
One or More Items in Kit may be Out of Stock - Backorder Available
Customise Your Purchase
Items supplied as part of the basic product (without any of the additional cost options):
Active BMS electronic unit
Wiring harness with branches for:
Cell wires: (Ground & positive for each cell, each 1 metre length with 8mm eye lugs)
Shunt: (Positive, Negative 4mm eye lugs on 1 metre twin shielded cable)
Temperature sensor (one attached Dallas DS18B20 digital temperature sensor on 1 metre shielded cable)
Main relay: (voltage free contacts: Fused input & normally open output, each 0.5 metre cable length)
Relay 1: (voltage free contacts: Fused input & normally open output, each 0.5 metre cable length)
Charge Optocoupler: (Input to opto isolated transistor, Output from opto isolated transistor, each 0.5 metre cable length)
Optocoupler 2: (Input to opto isolated transistor, Output from opto isolated transistor, each 0.5metre cable length)
CAN Bus (DB9 female connector on 0.5 metre cable)
RS485 (DB9 connector male connector on 0.5 metre cable)
Hibernate switch (panel mount switch on 1 metre cable)
Two spare fuses for cell sense wires
Active BMS Features:
suitable for 4 cells
Li-PO, LiFePO4, LiFeYPO4, LiCoO2, LiMnNiCo and LiMnO4 Lithium-Ion chemistry
high efficiency 2.5 Amp bi-directional active balancing (pack to cell and cell to pack)
configurable by firmware version for: 1) autonomous operation, or 2) operation with any Victron GX units, eg Touch GX, Venus GX, Octo GX, Color Control GX
2 – 5 V cell voltage measuring range, 2 mV accuracy
single cell - under/over voltage protection
single cell internal resistance measurement
SOC (state of charge) calculation & time remaining
SOH (state of health) calculation based on number of discharge cycles
over temperature protection (1 standard, but up to 2 temperature sensors by special order of the wiring harness)
under & over temperature charging protection
shunt current measurement (resolution 7.8 mA @ ± 200 A)
2 galvanically isolated user defined multi-purpose digital output/input
2 programmable relay (fused & normally open)
galvanically isolated RS-485 communication protocol for communication to WiFi, LCD or PC
galvanically isolated CAN Bus for communication with Victron GX device (or other customer CAN Bus system)
LED "heartbeat" and LED error & buzzer status indicator
11 error log on the device FIFO
on/off switch
one IP65 protected connector for all connections
ISO16315, ISO10133, EN61558-1, EN61558-2 and EN50498 compliant
Latest BMS manuals are available on the REC BMS website: https://rec-bms.com/rec-active-bms/
Note that the REC BMS is an entirely different class of BMS to the "typical BMS" in a fully enclosed LiFePO4 battery. The REC BMS does not have internal MOSFETS, as it is intended to be used with any size battery and any charge/discharge current (within reason). Compare this with a "typical BMS" with MOSFETS where these are sized to suit the maximum charge/discharge currents.
Refer to https://www.solar4rvs.com.au/batteries/lithium/bms/accessories-for-rec-bms/ to see details of other components that you might want for your REC BMS system.
General Description of the BMS Unit: The Battery management system (BMS) monitors and controls each cell in the battery pack by measuring its parameters. The capacity of the battery pack differs from one cell to another and this increases with number of charging/discharging cycles. The Li-poly batteries are fully charged at typical cell voltage 4.16 - 4.20 V or 3.5 – 3.7 V for LiFePO4. Due to the different capacity this voltage is not reached at the same time for all cells in the pack. The lower the cell's capacity the sooner this voltage is reached. When charging series connected cells with a single charger, voltage on some cells might be higher than the maximum allowed voltage. Overcharging the cell additionally lowers its capacity and number of charging cycles. The BMS equalizes cells' voltage by diverting some of the charging current from higher voltage cells to the whole pack or from the whole pack to a lower voltage cells – active balancing as shown below: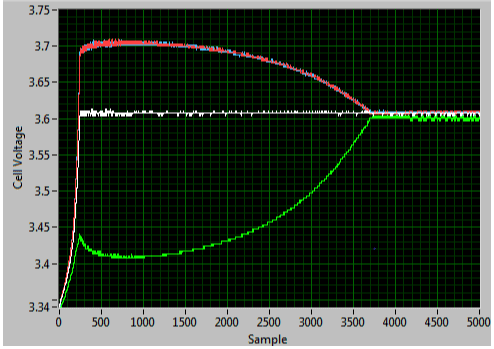 The BMS internal temperature is measured to protect the circuit from over-heating due to unexpected failure. The battery pack's temperature is monitored by Dallas DS18B20 digital temperature sensor/s. Current is measured by a low-side shunt resistor. Battery pack current, temperature and cell's voltage determine state of charge (SOC). State of health (SOH) is determined by comparing cell's current parameters with the parameters of a new battery pack.
For the Victron firmware version, all the parameters that control the charging/discharging behaviour are calculated by the BMS and transmitted on the CAN Bus to the GX unit (and Wakespeed WS500 unit if connected) in every measurement cycle. Near full and near discharged, the REC BMS will throttle back the permitted charge/discharge current and the GX device will follow the reduced limit by reducing the charge current output from units controlled by the GX device.
Customisation of firmware is subject to quotation; please email Solar 4 RVs in the first instance with details of what is required.
(REC-ABMS-KIT)
---
Or Swap To:
---
Others Also Bought
---
More From This Category