Sunman eArc 2 x 100W Flexible Solar Panel & Victron SmartSolar MPPT 75/15
with Optional Wiring Kit
Sunman 2x 100W Solar Panel + Vented Gap Kits + Victron SmartSolar MPPT 75/15 Charge Controller
Pack Includes:
2 x Sunman eArc 100W Flexible Monocrystalline Solar Panel

2 x 100W Vented Gap Kits

1 Victron Smart Solar 75/15
Optional Wiring Kit:
5 x MC4 Compatible Solar Connector Pair, MC4
1 x MC4 '3 to 1' Branch Joiner Connector Pair, MC43-1
7m 4mm² PV1-F Solar Cable
1m 6mm Twin Cable
1 x Exotronic 30A Surface Mount Waterproof DC Circuit Breaker
2 x Hellermann Tyton Insulated Yellow Ring M6 Lug
2 x Hellermann Tyton Insulated Yellow Ring M8 Lug
1 x Noark Switch MCB DC 2 Pole 32A 360V non-polarised
1 x 2 Module DIN Enclosure
2 x MC4 15A Compatible In-line Solar Fuse Connector
Sunman eArc 100W Flexible Monocrystalline Solar Panel
eArc (pronounced e-Ark) by SunMan are the only lightweight solar panels approved for grid connect on buildings which means they have passed the same testing criteria as traditional solar panels.
Tougher, lighter, thinner and more durable
Cutting edge technology - glass fibre-reinforced composite polymers similar to aircraft windows

Light - 100W frameless is 1.9kg

Thin - 2mm

Tough - Hail tested with ice stones of 35mm diameter and 200g mass at 39.5m per sec​

Strong - rated 2400 pascals for wind and 2400 pascals for load

Durable - ​10 year product warranty for building and 5 years for mobile application

Output - Efficient monocrystalline cells, 25 year performance guarantee

The only range of lightweight solar panel with Clean Energy Council (CEC) Accreditation
​Development of the new waterproof composite polymers and panel structure was accelerated by funding of $3.3M from the Australian Renewable Energy Agency (ARENA) to achieve the same durability as conventional solar panels.
eArche panels have been installed on the world's first solar powered train in Byron Bay and 812 (235kW) panels have been installed onto the Sydney Maritime Museum's Heritage Building which could not support heavy glass framed solar panels. To date more than 1MW of eArche capacity has been installed in Australia
eArche has obtained a series of other certifications for reliability, including:
A robust, lightweight, flexible solar panel that is perfect for caravans, motorhomes, boats, golf carts, trains, buses and other applications.
| | |
| --- | --- |
| | 100W |
| Solar cells | 36 (3x12) |
| Maximum Power (Pmax) | 100 |
| Maximum Power Voltage (Vmp) | 21.2 |
| Maximum Power Current (Imp) | 4.75 |
| Open-circuit Voltage (Voc) | 25.2 |
| Short-circuit Current (Isc) | 5.12 |
| Operating Temperature (°C) | -40 °C to 85 °C |
| Maximum System Voltage | 1000 V DC (IEC) |
| Maximum Series Fuse Rating | 20 A |
| Application Class | Class A |
| Power Tolerance | 0/+5 W |
| Backsheet | White |
| Junction box | IP 68 rated (each j-box has one by-pass diode) |
| Output Cables | Photovoltaic technology cable 4.0 mm2, (+)150 / (-)450 mm |
| Connector | MC4 compatible |
Vented Gap Kits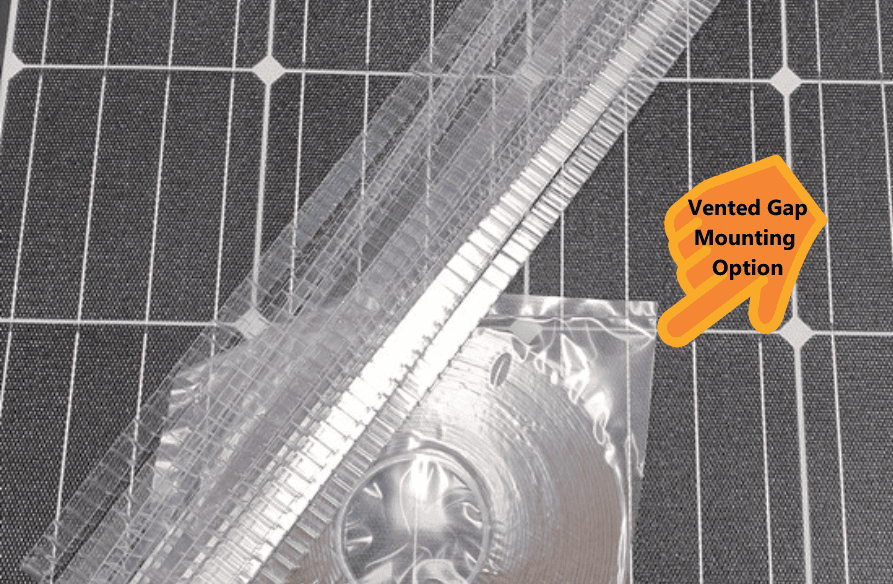 The Vented Gap Kit (VGK) allows for air-flow underneath the panel from any direction. The kit lifts the panel approx 15mm.
Victron SmartSolar 75/15 Bluetooth Solar Charge Controller
Bluetooth Smart built-in
The wireless solution to set-up, monitor, update and synchronise SmartSolar Charge Controllers
VE.Direct
For a wired data connection to a Color Control GX, other GX products, PC or other devices
Ultrafast Maximum Power Point Tracking (MPPT)
Especially in case of a clouded sky, when light intensity is changing continuously, an ultra-fast MPPT controller will improve energy harvest by up to 30% compared to PWM charge controllers and by up to 10% compared to slower MPPT controllers
Advanced Maximum Power Point Detection in case of partial shading conditions
If partial shading occurs, two or more maximum power points may be present on the power-voltage curve. Conventional MPPTs tend to lock to a local MPP, which may not be the optimum MPP. The innovative BlueSolar algorithm will always maximize energy harvest by locking to the optimum MPP.
Outstanding conversion efficiency
No cooling fan. Maximum efficiency exceeds 98%. The full output current up to 40°C (104°F).
Flexible charge algorithm
Fully programmable charge algorithm (see the software page on our website), and eight pre-programmed algorithms, selectable with a rotary switch (see manual for details).
Extensive electronic protection
Over-temperature protection and power derating when temperature is high. PV short circuit and PV reverse polarity protection. PV reverse current protection.
Internal temperature sensor
Compensates absorption and float charge voltage for temperature.
Optional external battery voltage and temperature sensing via Bluetooth
A Smart Battery Sense or a BMV-712 Smart Battery Monitor can be used to communicate battery voltage and temperature to one or more SmartSolar Charge Controllers.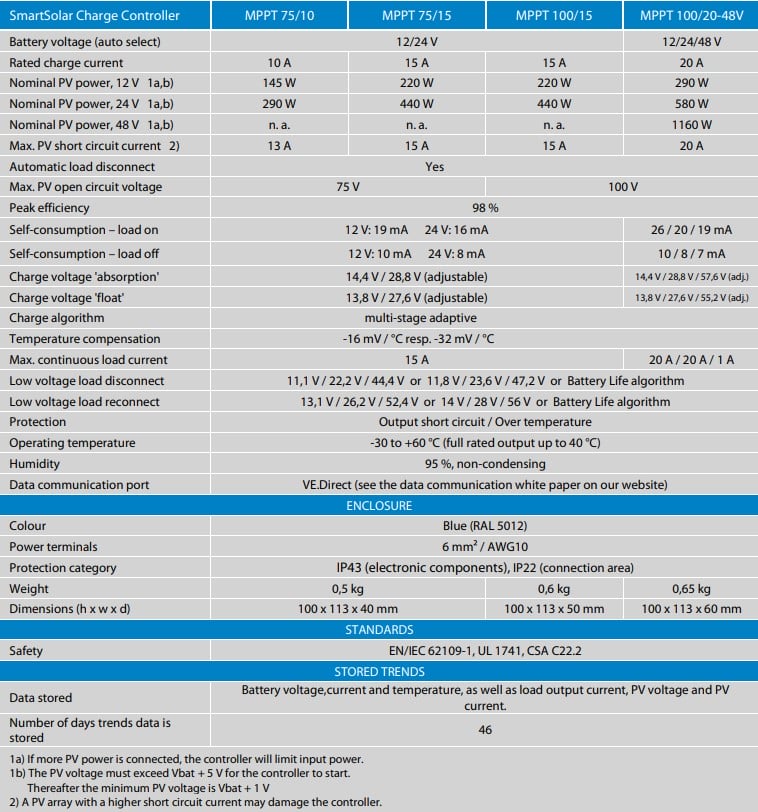 (Loom-2x100F-75-15)
Need help choosing a solar panel? Click this link to check our solar panel selector table!
| | |
| --- | --- |
| SKU | Loom-2x100F-75-15 |
| MPN # | Loom-2x100F-75-15 |
Sunman eArc - 5 year warranty - please read full warranty statement for details
Victron - 5 year warranty - please read full warranty statement for details
Wiring kit and accessories - 1 year warranty
---
Others Also Bought
---
More From This Category