Exotronic 2x 225W Solar Panel & Victron SmartSolar MPPT 100/30 Kit
with Optional Wiring Kit
Exotronic 2 x 225W Solar Panel + Mounting + Victron SmartSolar MPPT 100/30 Charge Controller
Pack Includes:
2x Exotronic 225w Solar Panel
2x Mounting bracket Kits
1x Fix15 White
1x Victron SmartSolar 100/30 Bluetooth Charge Controller
Optionally Add Wiring Kit:
5x MC4s
1x 'h' Branch MC4
7m 4mm2 PV1-F Solar Cable
1m 8 B&S Twin Cable
1x 40A Resettable Circuit Breaker
2x M6 10mm Lugs
2x M8 10mm Lugs
1m 9-3 Black Heatshrink
Exotronic 225W Fixed Monocrystalline Solar Panel
Using 23% efficient M6 monocrystalline passivated emitter rear contact (mono-PERC) cut cells and the latest 9-wire bus-bar low-loss design, these panels achieve a high efficiency with a positive power tolerance.
This Shade Tolerant model has two individual strings within the panel; when one side is shaded it have negligible impact the secondary string.
PERC cells provide better performance in low light applications compared to traditional monocrystalline silicone designs as some of the light that passes through the cell is bounced back and converted into electricity.
The 9-wire busbar decreases the resistance of the module and carries current evenly over the whole surface of the cells to ensure that all there are minimal power losses within the module and significantly reduces uneven cell heating and hot spots.
The Exotronic range of panels has been designed so that all panels have closely matching votlages, therefore all sizes can be wired in parallel.
The anodised aluminium frame is further protected by a black protective coating and is only 25mm thick to assist a low-profile design and reduce the weight of the module while still giving good rigidity to protect the module from vibrational and torsional stresses. The tempered glass provides high resistance to impact damage. Low-iron high transmissivity glass is used to provide excellent low light performance.
Salt mist and ammonia resistant
Wind load resistant - 2400 Pascal
Snow load resistant - 5400 Pascal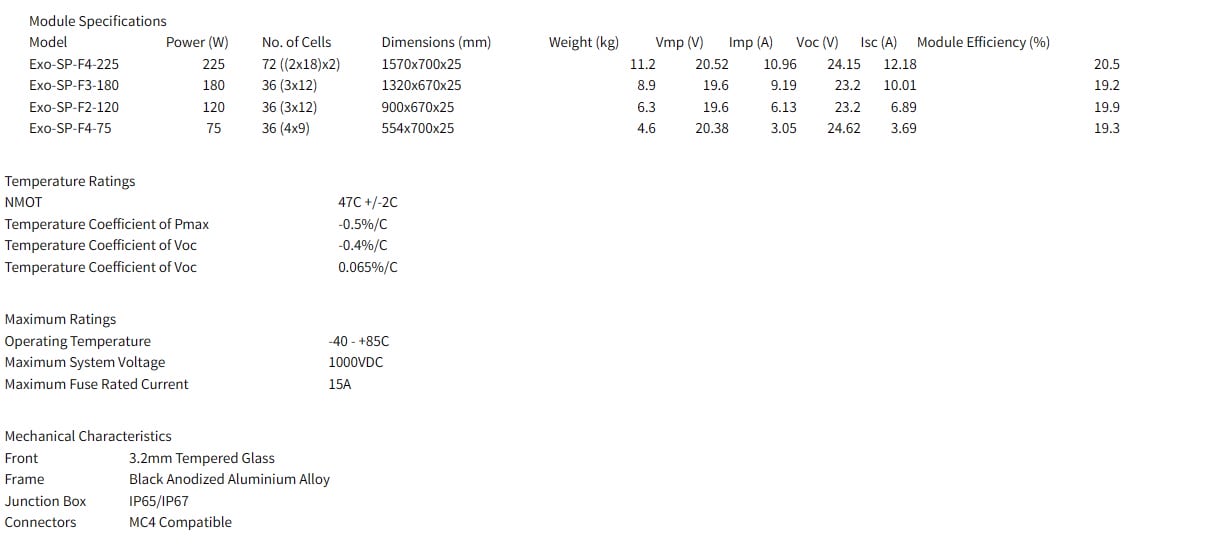 Adjustable Black Aluminium Solar Panel Bracket, Pack of 4
Strong but lightweight aluminium brackets including the screws and bolts are an excellent way of fixing your glass-fixed solar panels to your substrate.
Normal Mounting Method (it is the duty of the installer to ensure this method is appropriate for the panel and roof type):
Attach brackets to solar panel
Place panel on substrate and mark hole locations
Pre-drill holes
Clean bracket and substrate using iso-propyl alcohol until clean and dry
Use an appropriate adhesive to cover completely underneath the bracket
Screw bracket in place
Cover base of bracket and tops of screws with adhesive
FixTech Fix15 Adhesive Sealant 290ml Cartridge White
Fixseal MSP15 is a high quality single component joint sealant with high adhesive strength. It is based on MS Polymer®, which is chemically neutral and fully elastic with excellent primerless bonding. For use in low movement joints, adhesion and waterproofing in the construction, automotive, marine and aerospace industries where a strong bond and/or UV resistant flexible seal is required.
Features:
High bond strength on a wide variety of substrates
Non Yellowing white, and colourfast black
High performance mechanical properties
Flexible elastic rubber; movement accommodation up to 20%
Assessed under criteria of NOHSC Australia and considered as non-toxic, Certificate No.2146
No bubble formation within the sealant
Primerless adhesion (except where capillary water pressure can occur)
Easy to tool and finish
Excellent extrudability and UV resistance
Ecological advantages- free from isocyanates, solvents, halogens and acids
Minimal health and safety considerations
Can be wet on wet painted with all water based paints and many other systems*
No staining of porous materials such as natural stone, granite, marble, etc.
These kits are perfect for upgrading a caravan like a Jayco Outback or Journey to be off-grid.
(Loom-2x225-100-30)
Need help choosing a solar panel? Click this link to check our solar panel selector table!
| | |
| --- | --- |
| SKU | Loom-2x225-100-30 |
| MPN # | Loom-2x225-100-30 |
Exotronic Panel - 5 year warranty - please read full warranty statement for details
Victron - 5 year warranty - please read full warranty statement for details
Wiring kit and accessories - 1 year warranty
---
Others Also Bought
---
More From This Category