Enerdrive DC 2 DC / MPPT 24V-30A Battery Charger/MPPT
Multiple source charging for DC systems 24V
Fully automatic multi-stage, multi-input battery charger with the ability to charge from either an alternator linked to a battery; or via solar power with the in built Maximum Power Point Tracking (MPPT) Solar Controller
Enerdrive ePOWER 24V – 30A DC2DC Battery Charger.
ePower DC to DC battery charger is smaller than our most compact AC Battery Charger.
Two totally independent DC Inputs for both engine and solar regulation charging one house battery bank output

DC M6 screw terminals that will allow for large battery cable connection between all sources

A dedicated Maximum Power Point (MPPT) solar regulator

The same battery algorithms as included in our AC mains ePOWER battery charger including a specific lithium charging profile

30A output up to 40+°C with thermo controlled fan cooling

Fully programmable LCD display to show which source is charging the battery along with charger status, voltage and amperage

Temperature sensor included in charger for more accurate battery charging
The Enerdrive ePOWER DC2DC Battery Charger is a fully automatic multistage, multi input battery charger with the ability to charge from either an alternator linked to a battery; or via solar power with the in built Maximum Power Point Tracking (MPPT) Solar Controller. With two inputs available, the house battery will be charged from either the engine while underway, or via the solar panels when stationary. The process to choose either engine or solar is fully automatic and both functions are controlled from within the unit itself without the need for external relays.
During normal operation the ePOWER DC2DC Battery Charger will do a full charge cycle to float stage on the house battery bank with ability to choose either GEL, AGM, Flooded, Custom Programmable or Lithium. Once float stage is reached the charger transitions to a power supply mode to support any on-board DC loads.
Multistage Charging Process
The ePOWER DC2DC Battery Charger is a fully automatic, set and forget charger. It is designed to quickly and accurately recharge your deep cycle batteries utilising charger algorithms that help to maximise the life of your specialised deep cycle batteries.
The ePOWER DC2DC Battery Charger features multistage smart charging technology that enables the charger to be connected to your battery banks permanently. With the input of multiple sources, you can be assured of charging your batteries whenever underway; or when the sun is shining on your solar array.
As dictated by battery manufacturer's recommendations, deep cycle batteries require a multistage charge sequence for perfect, fast and accurate charging. The Enerdrive ePOWER DC2DC smart charger delivers three primary charge stages.
Bulk or Boost charge; The battery is charged at full rated output current of the charger until the battery reaches its final charging voltage, known as its absorption voltage. In this step, around 80% of the battery is recovered as fast as possible.
Absorption Charge; With the charger voltage held steady, the remaining 20% is replaced with the charger allowing the current to taper off as the battery approaches full charge.
Float; Finally, in the float stage the charger voltage is lowered and held at a constant and safe predetermined level. This prevents the battery from being overcharged, yet allows the charger to supply enough current to make up for the self-discharge losses of the battery, while supporting any additional loads connected to the battery (such as DC lighting and refrigerators). This stage allows for the charger to be used as a DC power supply.
Smart Charging Feature
The ePOWER DC2DC Battery Charger will regulate its output based on the loads connected to your battery banks. This function is important to maintain the life of your battery banks as some battery chargers mistake loads for discharge and continue to keep the batteries in the bulk or absorption stage for extended periods of time, which will damage the battery bank. The ePOWER DC2DC Battery Charger has two methods of load based regulation to ensure your battery charger transitions to float when it should do so.
Battery Temperature Sensor
Included standard with all ePOWER Battery Chargers.
(EN3DC30-24)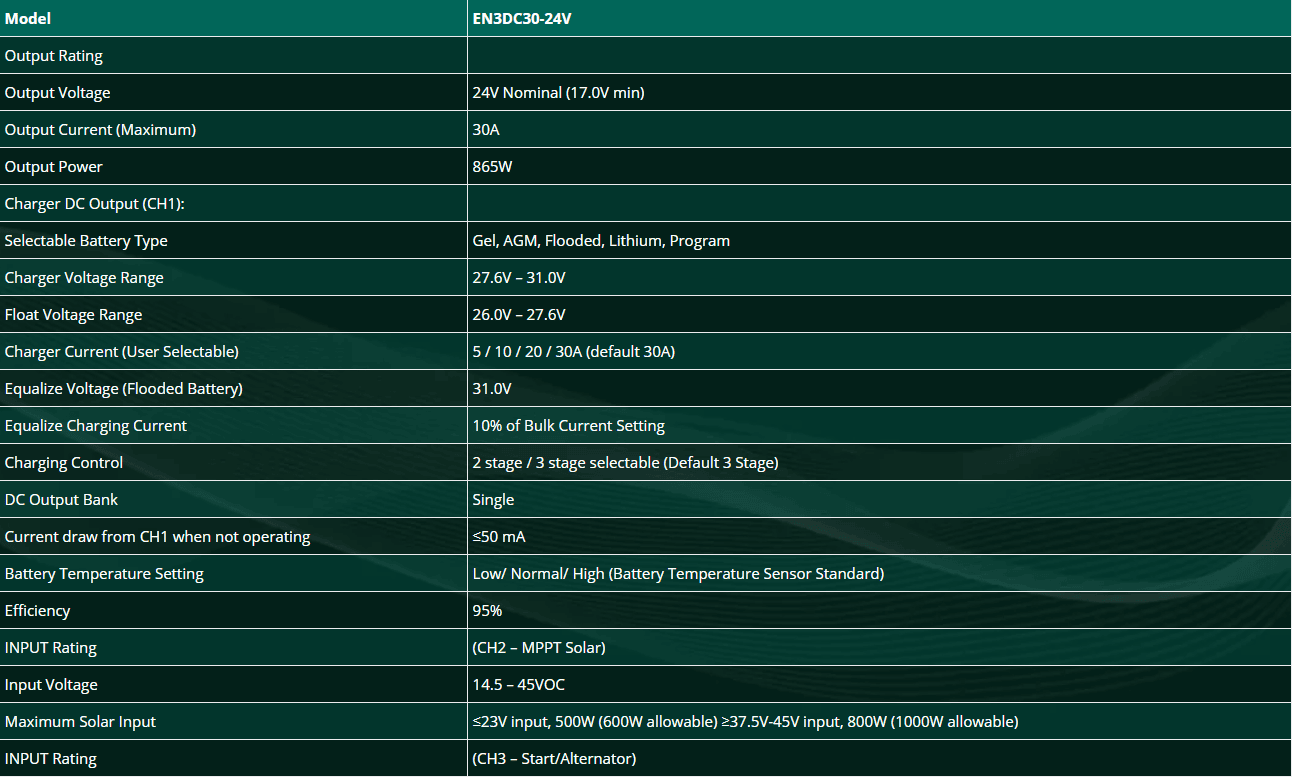 Enerdrive 2+3 Year Limited Warranty
Enerdrive's 5 Year Extended Warranty includes …
Our standard 2 Year Limited Warranty
Our 3 Year Extended Warranty Program
3 Year Extended Warranty Enerdrive's
Extended Warranty Program offers you 3 additional years of cover with our Trade-Up option. Trade your product to the latest model for a fraction of the new price. With most units now unserviceable by the user, the cost of repairs mount up. This warranty offers you the choice to either repair the unit at a cost or Trade-Up your unit for a new one at a discounted price.
2 Year Limited Warranty
Our goods come with guarantees that cannot be excluded under the Australian Consumer Law. You are entitled to a replacement or refund for a major failure and for compensation for any other reasonably foreseeable loss or damage. You are also entitled to have the goods repaired or replaced if the goods fail to be of acceptable quality and the failure does not amount to a major failure.
The limited warranty program is the warranty that applies to all Enerdrive products, and it sets forth all the responsibilities of Enerdrive. There is no other warranty, other than those described herein. Any implied warranty of merchantability of fitness for a particular purpose of the Enerdrive product is limited in duration to the duration of this warranty.
This Enerdrive product is warranted, to the original purchaser only (proof of purchase is required), to be free of defects in materials and workmanship for two years from the date of purchase* without additional charge. The warranty does not extend to subsequent purchasers or users other than OEM applications.
This Enerdrive product is not intended for commercial use. This warranty does not apply to damage to units from misuse or incorrect installation/connection. Misuse includes wiring or connecting to improper polarity power sources.
Return and/or Repair Policy
If you are experiencing any problems with your unit, please contact our customer service department at Enerdrive before returning product to retail store. After speaking to a customer service representative, if products are deemed non-working or malfunctioning, the product may be returned to the purchasing store within 30 days of original purchase. Any defective unit that is returned to Enerdrive within 30 days of the date of purchase will be replaced free of charge.
If such a unit is returned more than 30 days but less than two years from the purchase date, Enerdrive will repair the unit or, at its option, replace it, free of charge. If the unit is repaired, new or reconditioned replacement parts may be used, at manufacturer's option. A unit may be replaced with a new or reconditioned unit of the same or comparable design. The repaired or replaced unit will then be warranted under these terms for the remainder of the warranty period. The customer is responsible for the shipping charges on all returned items back to Enerdrive.
Limitations
This warranty does not cover accessories, such as adapters and batteries, damage or defects result from normal wear and tear (including chips, scratches, abrasions, discolouration or fading due to usage or exposure to sunlight), accidents, damage during shipping to our service facility, alterations, unauthorized use or repair, neglect, misuse, abuse, failure to follow instructions for care and maintenance, fire and flood.
---
Others Also Bought
---
More From This Category