Ruuvi RuuviTag Pro Sensor (3in1) Wireless Temperature, Humidity and Motion
RuuviTag Pro Bluetooth Sensor IP67 certified
To connect to a Victron Cerbo GX you will need a USB Bluetooth adapter plugged into the Cerbo.
Accurate and Durable Sensor for Versatile Conditions
RuuviTag Pro is a rugged IP certified environmental sensor for temperature, humidity and acceleration monitoring.
The Pro is based on RuuviTag's successful concept and additionally brings several new outstanding features to the table. RuuviTag Pro is the toughest open source sensor on the market.
Wet-Certified
RuuviTag Pro tolerates wet and rough conditions.
The IP67 certified RuuviTag Pro (3-in-1) comes with a breathable membrane that enables air humidity monitoring. It tolerates temporary wet conditions.
The IP68 and IP69K certified RuuviTag Pro (2-in-1) offers a full protection against water with its fully sealed enclosure. It has been laboratory tested to work in water depth of up to 50 meters for 24 hours and to tolerate high pressurised spraying with 80 °C water.
Note! Please keep in mind that Bluetooth signals are strongly attenuated in the water and range will be significantly reduced. Ruuvi sensors can then be used in narrow water if you want to maintain connection (for example pool or jacuzzi). If you want to measure deeper, you can attach the RuuviTag Pro to a string and take it back to the surface when you want to download the data history.
Medical Grade Temperature Accuracy
RuuviTag Pro has an extremely accurate temperature sensor on board. The sensor is designed to meet ASTM E1112 and ISO 80601 requirements for electronic patient thermometers.
Measurement resolution is 0,01 °C, while absolute accuracy is astounding at ±0,1 °C across the temperature range of –20 to +50 °C, with no calibration.
The sensor units are 100% tested on a production setup that is NIST traceable and verified with equipment that is calibrated to ISO/IEC 17025 accredited standards.
Professional Mounting
RuuviTag Pro has two strong mounting ears that allow reliable installation methods to be used. Wooden ceilings, gyproc walls, concrete foundations, you name it. Attach and measure professionally wherever you need to.
From -40 to +85 °C
RuuviTag Pro's casing and electronics are designed to operate without interruption in a wide range of temperatures. Maintenance is minimal because the included Ruuvi CR2477T wide temperature battery lasts up to 2 years.
VICTRON BLOG
Wireless and battery powered temp sensors: the Ruuvi
Something quite new, and far more popular then I (Victron) anticipated to be honest: the support for the Ruuvi temperature sensors. Being powered by a small coin cell in the sensor, as well as wireless, they are super simple to install. And as such perfect to remotely keep an eye on your yacht or cabin in the winter. Or fridge or freezer temperatures, and so forth.
I have installed and am using some myself as well, and they are great. Less stress about pipes freezing up, as well as mould growing: it also reports relative humidity.
Here is a picture showing the sensor, and the reported data:

Here is how the data looks on the VRM Portal:
A few notes:
To read data from the Ruuvi sensor, a Bluetooth USB adapter is required. For CCGX, Venus GX, and also for the Cerbo GX. A list of suitable and tested Bluetooth USB adapters is available in the Victron Venus 2.80 Blog posted on 31/01/2022.
Per v2.82, multiple Bluetooth USB adapters can be installed and will all be used to read data from the Ruuvis. This is nice, as it allows expanding the range by using a USB extension cable.
See the documentation for more details about this feature.
Controlling a relay on temperature
The relays on the GX device can now be controlled by temperature. For example to switch a fan, or heating pad. Here are two screenshots showing the configuration:

In above example, the second relay will switch when the temperature in the engine bay rises above 45 degrees, starting the fan. And it will switch off once the temperature drops below 40 degrees C.
Both the first and the second relay can be configured to be controlled by temperature. And two sets of conditions can be configured, also for the same relay.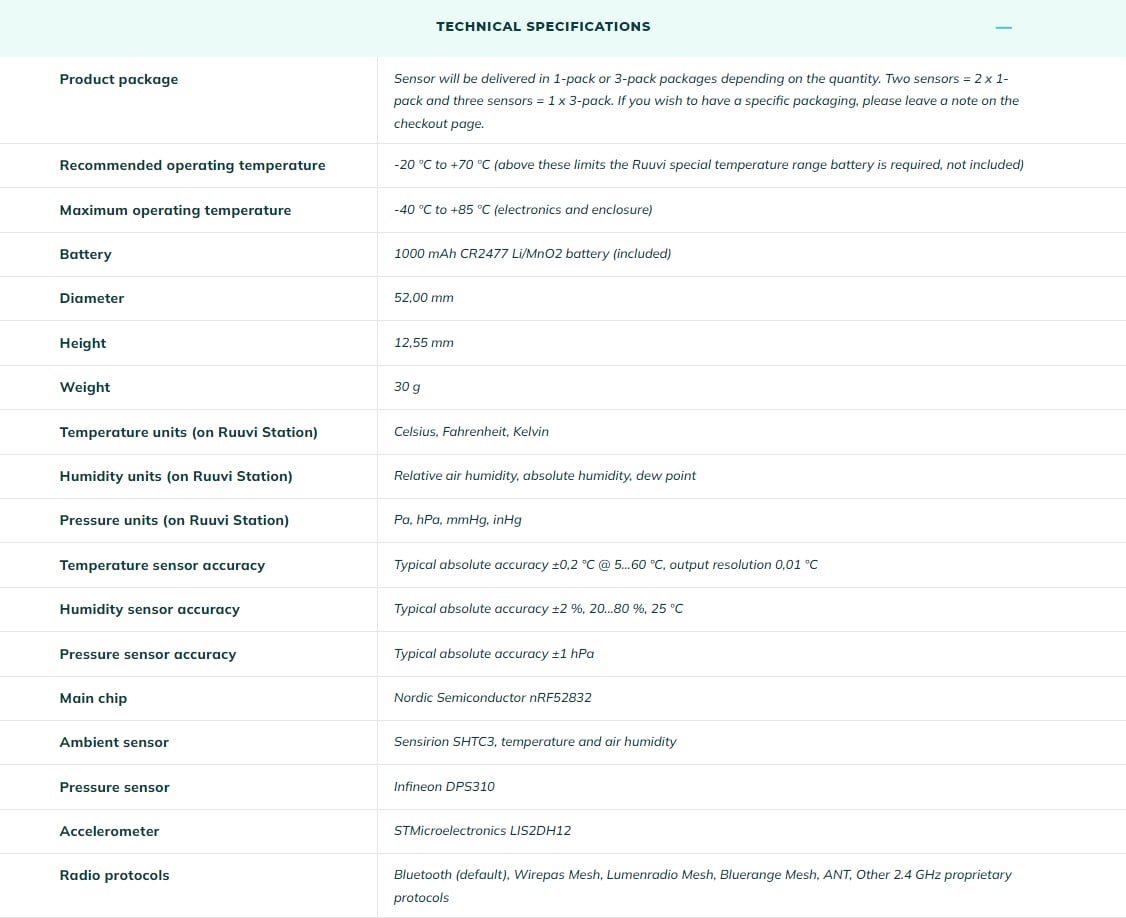 Victron Blog Guide on Connecting a RuuviTag
(
Ruuvi-3in1
)
| | |
| --- | --- |
| SKU | Ruuvi-3in1 |
| Barcode # | 764460264647 |
| MPN # | Ruuvi-3in1 |
---
Or Swap To:
---
Others Also Bought
---
More From This Category