Portable Solar Panels
​
NEW eArche portable fold-up solar panel
Now available for

Christmas gift

giving and the holiday season
tough
5 year warranty
Value for money
Ultra-Lightweight and compact
This compact 160W solar panel uses the same high grade efficient monocrystalline solar cells that are used in the eArche range. eArche solar panels are used extensively in architecture and are the only lightweight solar panel approved by the Australian Clean Energy Council.

The robust construction of eArche solar panels uses a Patent Pending composite material similar to that used in airplane windows and is 75 percent lighter than conventional photovoltaic panels.
Easy to carry
Easy to use
Easy to store
Made with 36 solar cells in three sections of 12 solar cells each fold into a compact carry bag with handle that is easy to carry and store and weighs only 5kg.
Dimensions folded - 670 x 540 x 18 mm
Dimensions un-folded - 670 x 2030 x 5 mm
The functional storage pouch keeps the cables and solar charge controller neatly protected and stored when not in use.
High Efficiency
The output warranty is the same as high grade rigid solar panels used on buildings: above 80% of the original power by the 25th year.
Unfolded, without shade this panel can produce more than 500wh per day in most areas.
Durable
The top encapsulation layer is a high-strength fluorine polymer that is corrosion and stain resistant, non-stick self-cleaning, and retains its clarity (and therefore light transmittance) ensuring long service life for solar panels.

It will not discolour or degrade from exposure to environmental pollution, UV light, harsh chemicals or extreme temperature variations.

The surface texture is extremely tough.
Accessories
Included: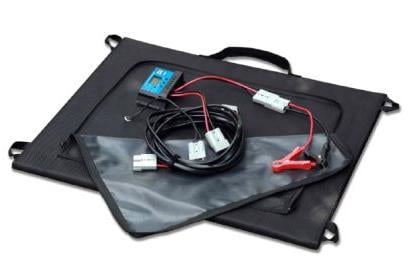 Solar charge controller - 2 options
PWM 10A charge controller with LCD display (1 year warranty); Attached with velcro so removable.
OR
Victron 15A MPPT SmartSolar with built-in bluetooth to connect to the Victron app via a smartphone/device so you can set-up, monitor and update the controller (5 year warranty)
5 m extension cable lets you be in the shade while the solar panels work for you out in the sun.
Alligator clips for easy battery connection.
All cables have lightweight, compact, mini Anderson style connectors
Warranty
eArche solar panels have a 5 year warranty

CLICK HERE for our range of lightweight eArche solar panels suitable for permanent installation
History of eArche
University of NSW PhD graduate Dr Zhengrong Shi, is the founder of the revolutionary eArche lightweight, thin and flexible solar panel.
Dr Shi states that the key to eArche's success was in getting the right optics – the material had to be transparent, durable, waterproof and flexible. He said there was also a "good thermal match" between silicon and this composite material, which avoids cracking.
With the architectural world and mobile market embracing these ultra-light solar panels he has now developed a portable fold-up version for the camping market.
---
---
Includes 5m extension cable with Anderson connectors
Includes 5m extension cable with Anderson connectors