Launch of eArc panels on Sydney Maritime Museum
Date Posted:24 July 2019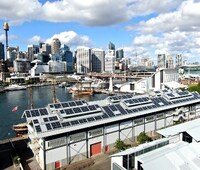 The Australian Maritime Museum in Sydney has invited Solar 4 RVs to the sustainability launch of its 235kw eArc solar installation in August.
eArc solar panels are so light that they are perfect for roofing structures that can not hold the weight of traditional rigid glass topped solar panels.
There are strict guidelines for installing solar panels on residential and commercial buildings. eArc has obtained a series of international certifications for reliability and is the only lightweight solar panel accredited by Australia's Clean Energy Council. The Clean Energy Council (CEC) maintains the database and website listing of AS/NZS 5033-compliant photovoltaic (PV) modules for grid-connected commercial and residential applications. (Note: CEC approval is not required for solar panels on RVs and boats and other mobile applications as they are not connected to the grid.)
Why eArc solar panels are the perfect lighteight solar solution:
Tougher - encapsuation similar to aircraft windows
75% Lighter - 160W 2.9kg
25 year performance guarantee
5 year product warranty for mobile applications
10 year product warranty for buildings
Clean Energy Council (CEC) Accreditation
Click here for more more information on eArc solar panels and to view the sizes available
The museum is Australia's national centre for maritime collections, exhibitions, research and archaeology.