The VOTRONIC units Battery Protector 40 and Battery Protector 100 are connected between supply battery and consumers, and they are suitable for all types and brands of lead batteries (acid, gel, AGM). The units protect the battery from dangerous total discharge and the consumers and equipment from undervoltage and overvoltage. Apart from that, they can be used as remote-controlled battery main switch by means of an external switch.
Switching current 40 A, short-time overload up to 60 A is admissible, display of the switching state is visible from outside
EMERGENCY ON function by switch at the unit; remote control is possible by external switch
Automatic reset, as soon as the battery voltage is again in the normal range (charging)
Separate sensor cable and switching thresholds with hysteresis and timer function for trouble-free operation
Bi-stable power relay, very low own consumption: less than 3 mA (according to EN 13976)
No own consumption after disconnection by external switch, such as remote control as battery main switch
Solid terminal screws for battery and load cable cross sections up to 10 mm²
Execution "Motor" with higher disconnection thresholds keeps the starting ability of intervention vehicles with only one battery circuit according to DIN EN 1789
(Vot-3075)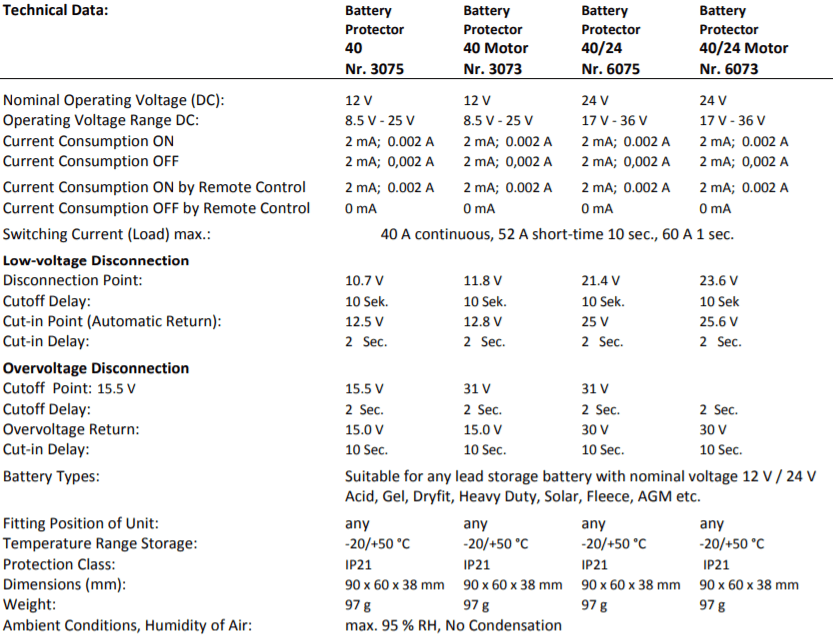 We are liable for material defects of all our products within 36 months from the purchase date against representation of the sales slip or of the invoice, proper handling, intended use and consideration of the installation and operating manual provided. If the buyer or third execute modification and repair tasks to the product (external intervention) or will the electronic or the entire product damaged by moisture, any claims for defects for these tasks and the results being involved will be void. Claims will also be void for any service being performed by third, which has not been ordered by us in writing. Service is exclusively allowed to be performed by Votronic GmbH & Co. KG Lauterbach.
---
Others Also Bought
---
More From This Category