The VOTRONIC units Battery Protector 40 and Battery Protector 100 are connected between supply battery and consumers, and they are suitable for all types and brands of lead batteries (acid, gel, AGM). The units protect the battery from dangerous total discharge and the consumers and equipment from undervoltage and overvoltage. Apart from that, they can be used as remote-controlled battery main switch by means of an external switch.
High switching current 100 A, short-time overload up to 180 A is admissible, can be switched over to 12 V/24 V board mains supply
Based on programmed characteristic diagrams of battery, the intelligent automatic switching threshold always calculates the disconnection point "empty" being appropriate for optimized capacity utilization and safe protection of the battery, from powerful consumers (low switching threshold at shorter response time) to very small loads (e. g. "hidden" current consumers with response times over days/months with high response threshold)
Operation with 3 defined disconnection thresholds can be (manually) adjusted
The higher set values are keeping the starting ability of intervention vehicles with only one battery circuit
(according to DIN EN 1789)
The preliminary alarm with visual (LED) and audible indication (beeper, can be switched-off), as well as a separate warning terminal (PNP, plus output, 0.2 A) allow to the user to take countermeasures in time
(such as to disconnect consumers, which are not required)
Solid threaded battery connections for cable lugs M6, inclusive cover for battery connections
(Vot-3078)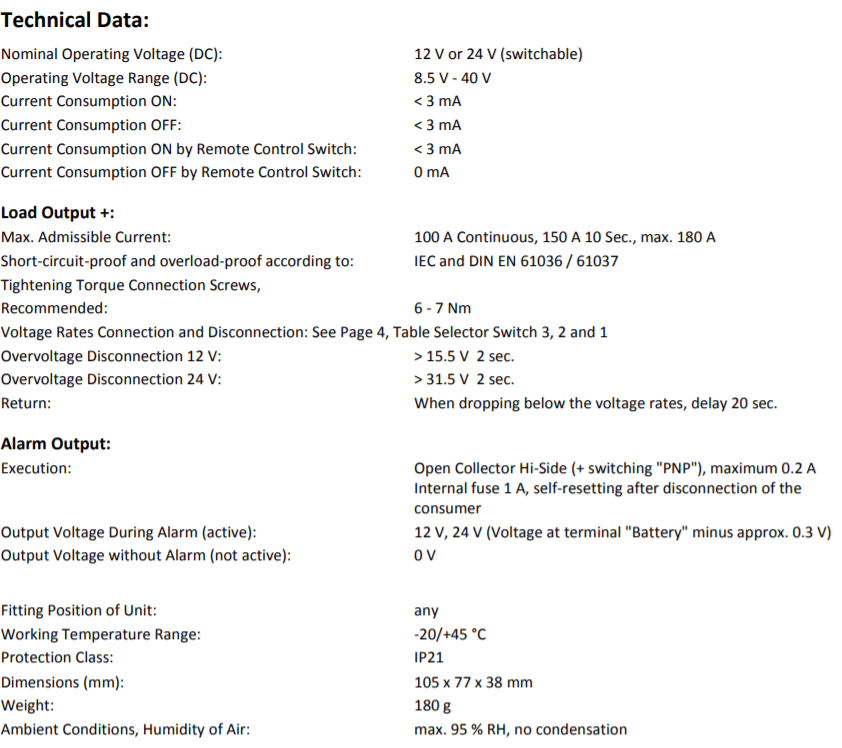 We are liable for material defects of all our products within 36 months from the purchase date against representation of the sales slip or of the invoice, proper handling, intended use and consideration of the installation and operating manual provided. If the buyer or third execute modification and repair tasks to the product (external intervention) or will the electronic or the entire product damaged by moisture, any claims for defects for these tasks and the results being involved will be void. Claims will also be void for any service being performed by third, which has not been ordered by us in writing. Service is exclusively allowed to be performed by Votronic GmbH & Co. KG Lauterbach.
---
Others Also Bought
---
More From This Category