Invicta 24V 150Ah Bluetooth Lithium Battery
Safe and stable chemistry & Integrated BMS
The Invicta Lithium 12V range has been specifically designed for replacement of similar size lead acid batteries. The family is comprised of the popular sizes found in the lead acid range but with the added benefits of Lithium Iron Phosphate (LiFePO4) technology and is ideally suited to deep cycle longer run time applications.
High Cyclic Applications:
4x4 Vehicles

Recreational Vehicles

Caravan / Camping
Fast Charge Requirement Applications:
Medical Devices

Remote Control Devices

Boats / Recreation
Low Weight Applications:
Boats

Golf Carts

Personal Power - Lighting, cameras etc.
Features:
Large number of cycles >2000 (100% DoD) Up to 8 times cycle life of SLA lowering your total cost of ownership

Safe and stable chemistry & Integrated BMS The use of LiFePO4 along with the integrated BMS ensures protection against over charge / discharge, temperature and short circuit providing the highest degree of safety

Greater capacity utilisation – 60% more than SLA Gives longer runtime than equivalent SLA

High energy density (less than half of the weight of SLA) Lowering total weight of application

Fast recharge Battery is charged and ready to be used sooner

Flat Discharge Curve Longer run time & more efficient use of capacity

Extremely low self-discharge rate - Can sit unused for longer periods of time

UL1642 at cell level

Save up to 50% in battery hardware costs over the life of the system

Reduction in labour replacement costs by up to 7 times

Greater capacity utilisation allows reduction in overall system size or greater output from your current sytem size.
(SNL24V150BT)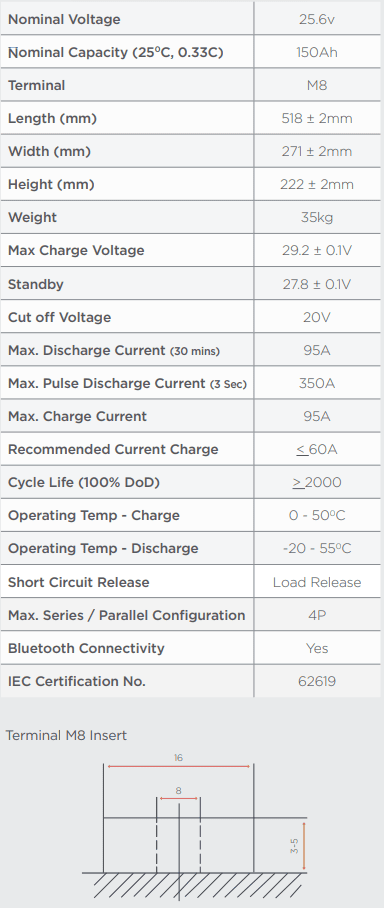 | | |
| --- | --- |
| SKU | SNL24V150BT |
| MPN # | SNL24V150BT |
Warranty Period:
From the date of shipment, three years full coverage.
Conditions:
The warranty is invalid if the battery has been subject to misuse, abuse or physical damage.

The batteries are subject to IEEE Standard 1188 Acceptance Test at time of installation. If they do not meet both, or either, the standards and the published Invicta Lithium specifications the company, Solar4RV's must be notified immediately and the user should request further instructions.

The battery will be determined to be defective if it fails to deliver less than 70% of its rated capacity during the warranty period, subject to the conditions listed below:

The residual battery capacity is determined by:

Fully discharging the battery to 0% SOC at 1C or less

Fully charging the battery at the recommended voltage and rate for a minimum of 24 consecutive hours

Fully discharging the battery to 0% SOC at 0.5C or less and 73°F (23°C)
The percentage of rated capacity is calculated as:
Percentage of rated capacity (%) = [(IC/5) * hours to discharge] /C rated] * 100
Where:
C rated = Rated Capacity (Amp Hours)
IC/5 = C rated/5 (Amps)
The Invicta Lithium battery selected by the user must be of the correct size, design, and capacity for the intended application. Failure to do this will invalidate the warranty.
The battery should be installed and operated at a temperature not exceeding the batteries design limits as published in the specification sheet issued at that time, this include under bonnet applications.
The batteries should be paired with a suitable designated charger with the correct settings and Voltage / Current limitations as indicated in the specification sheet. Incorrect selection of charger and/or failure to follow the correct charging regimen will void the warranty.
The batteries must not be used in starting applications.
Information to be provided along with the warranty claim where possible should include:
Battery type/Quantity

The date code/Installation date

Approximate operating temperature

Battery connection configuration – number in series / parallel

Charger Settings (Charging voltage and current settings)

Approximate load.
User agrees to make accessible the batteries under warranty to Solar4RV's or its' authorized representative for inspection at reasonable hours and time intervals.
The warranty shall be voided if the battery becomes unserviceable due to: fire, freezing, abuse, neglect, repair, alteration or modification or any act of God.
Installation of the batteries must be performed by suitably qualified technicians and in accordance with proven acceptable practices or the warranty will be voided.
This warranty shall apply only to original purchasers in Australia or NZ. Warranties may be extended to other countries on a case by case basis. Please contact Solar4RV's to gain authorization for this.
Claims:
Contact the original point of purchase for instructions.

Request return authorization. No returns will be credited without an authorization.

In the case of returned product the batteries must be packed with sufficient padding and in the appropriate cartons to eliminate the risk of damage in transit.

The battery must only be returned in compliance with the transport and packaging regulations ruling at that time. Failure to do this may result in the carrier refusing the shipment.

Incorrectly identifying the content of such packages is illegal and the shipment could possibly be subject to substantial fines and confiscation of the goods in accordance with Federal and State laws.

Solar4RV's has the option to credit or replace products deemed defective and under warranty.

Cost of travel, installation, transportation shall be borne by the purchaser.

The above warranty is in lieu of and not limited to all other remedies including negligence and breach of contract.
The Competition and Consumer Act 2010 and the Australian Consumer Law may guarantee certain conditions, warranties and undertakings in relation to Goods. To the extent they apply, these guarantees cannot be modified nor excluded by contract, and this warranty document does not purport to modify or exclude any conditions, warranties, guarantees and undertakings under the Australian Consumer Law.
---
More From This Category