Genasun 8A MPPT 24V Voltage Boost (Lead-Acid) - Waterproof Solar Charge Controller
Made in USA - 5 year warranty - IP68
Enjoy free AusPost shipping for orders over $100 on most items, including our Genasun 8A MPPT 24V Voltage Boost (Lead-Acid) - Waterproof Solar Charge Controller, to the majority of areas. Check your shipping details on the cart page for more information.
Ideal for golf carts
GVB-8-WP (BOOST) 8A MPPT
Reliability & efficiency down to a science.
Marine | RV | Industrial | Military | Street Lighting | Off-Grid
Get your money's worth with Genasun. A true problem-solver, the unique GVB charge controller with MPPT allows a lower-voltage solar panel to charge higher-voltage batteries. Want to charge a 24V battery with a 48-cell solar panel? No problem. A 48V battery from a 12V panel? We've got you covered. With 99% peak efficiency, they are the industry's most efficient voltage-boosting controllers. True MPPT delivers consistent performance, unlike the "Nominal MPPT" of competitors. The advanced electronics inside the controller are encased in a proprietary potting compound making them ideal for golf-cart, marine, and vehicle applications.
Waterproof
99% peak efficiency
In-line fuse
Ultra-fast true MPP Tracking
Excellent low-light performance
Wire leads for easy installation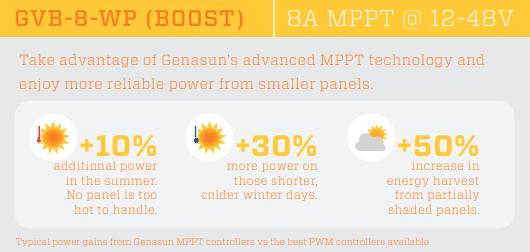 (
GVB-8-Pb-24V-WP
)
Continuous MPPT
Marine-Grade
Advanced electronic protections
5-Year Warranty.
LED Display
The built-in LED will quickly tell you that you've installed the controller correctly. Simple to read, it will also let you know when the battery is charging from solar power, and when the battery has reached full charge.
Built-in Fuse
The GVB controller comes with a fuse built into the power line. This will keep your cart operating safely, reduce the chance of an incorrect installation, and allow end-users to make a quick fuse replacement if needed.
Waterproof: Go ahead, hose it off.
The advanced electronics inside your controller are encased in a proprietary potting compound. After extensive testing with a variety of formulations, we developed a perfect potting compound for our GVB controllers. This extra level of protection ensures trouble-free operation in real-world golf-cart and other vehicular applications.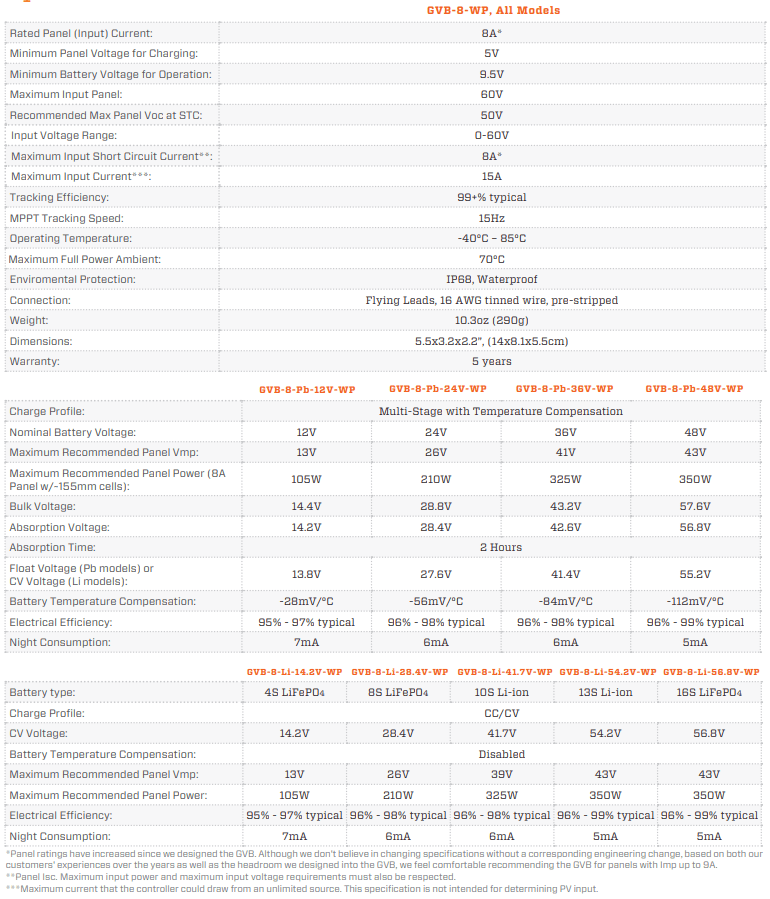 | | |
| --- | --- |
| SKU | GVB-8-Pb-24V-WP |
| MPN # | GVB-8-Pb-24V-WP |
The GV-Boost Waterproof solar charge controllers carry a 5-year warranty on materials and workmanship. Genasun's warranty does not cover damage due to abuse or operation beyond the rated specifications.
---
Others Also Bought
---
More From This Category