World Solar Challenge racing team
Date Posted:24 October 2015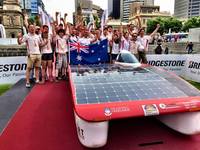 Solar 4 RVs was proud to supply it's flexible solar panels to the Adelaide University Solar Racing Team (AUSRT) for the 2015 World Solar Challenge race.
46 Teams from 25 countries raced the 3,000 kilometres from Darwin to Adelaide.
The Challenger Class consists of smaller vehicles that carry only the driver and are timed in a single stage between the two destinations. They must travel the full length of the race with just one charge of their battery. Solar power provides the rest of the energy needed to power the vehicle's trip.
Lumen, which means 'light' in Latin, is The University of Adelaide's first solar electric vehicle which was purpose-built by Honour's Year mechnical engineering students with the support of supervisors and industry sponsors.