M2M on Monash Freeway
Date Posted:12 July 2015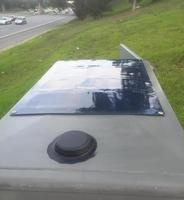 Our black, slim flexible solar panels have been installed on remote monitoring M2M stations on the Monash Freeway providing renewable and cost effective power.
Machine-to-machine (M2M) communications enables sensing and monitoring for automated data transmission between mechanical or electronic devices without direct human interaction.
The M2M capability on the Monash Freeway capture and apply information to improve the operational efficiency of Australia's infrastructure networks and make better decisions.
Sensors make measurements, embedded modules or devices transmit the data, communications networks carry data, and middleware platforms and application software convert the data into useful information. It provides the end-user with real-time visibility and control.