Diesel Shunting locomotive
Date Posted:14 February 2017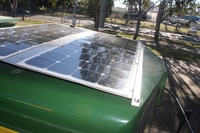 Solar 4 RVs has provided solar as a trial for a diesel shunting locomotive.
The Solbian solar panels supplied for this Downer shunting locomotive keep the locomotive's batteries topped up.
Previously staff had to regularly run the diesel engine, or attach a mains battery charger to recharge flat batteries if the locomotive was not used for several weeks. The benefits of solar charging are reduced diesel consumption, extension of the battery life, and improved productivity – the locomotive is now ready whenever it's needed.
Photos courtesy of Downer