Apartment on wheels
Date Posted:15 February 2021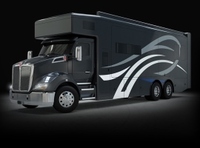 This all-Australian 5 star apartment-on-wheels is based on the American morothome. It is 12.3m long with two bedrooms that can be lifted so items can be stored underneath such as motorbikes, a quad bike or jet ski.
Named the Dreamliner it contains a king sofa sleeper, kitchenette, eating area and bathroom with toilet, shower and vanity.
Solar 4 RVs supplied thin lightweight eArc solar panels, lithium batteries and battery management system plus Victron products invluding Bluetooth solar charge controllers, inverter charger and DC-DC charger.