Authorised Ruuvi and Mopeka IoT Distributor
Customers can now access a wide range of innovative IoT devices from trusted brands Ruuvi and Mopeka, all in one convenient online store
In a significant move to strengthen its position in the Internet of Things (IoT) market, Solar 4 RVs is proud to announce its recent partnership with Ruuvi and Mopeka, two renowned IoT companies. As an authorized distributor, the platform now offers a diverse selection of innovative IoT devices and solutions, catering to customers' needs for smart living and businesses seeking efficient monitoring solutions.
Ruuvi, a Finnish-based technology company, is well-known for its RuuviTag sensors that collect environmental data, such as temperature, humidity, air pressure, and acceleration. These devices boast an open-source platform, making it easy for users to integrate the sensors into their existing IoT systems. RuuviTags are highly durable and weatherproof, ensuring reliable performance in various conditions. Their long-lasting battery life of up to 10 years offers users peace of mind and minimal maintenance.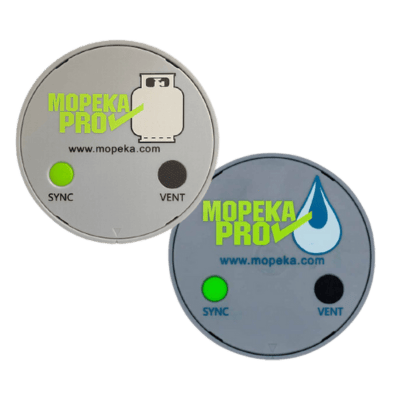 Mopeka, on the other hand, specializes in wireless tank monitoring solutions. Their flagship product, the Mopeka Tank Check Sensor, allows users to monitor the level of water or other grey water tanks remotely via a smartphone app. The sensor's versatility makes it ideal for use in RVs, boats, forklifts, and other applications. Mopeka's innovative technology ensures accurate readings and seamless integration with IoT systems, providing users with real-time data and alerts. They also offer an LPG Tank Check Sensor.
Solar 4 RVs is committed to offering its customers the latest IoT technologies that enhance their daily lives and improve business operations. By partnering with Ruuvi and Mopeka, the platform is now a one-stop-shop for consumers and businesses seeking reliable, high-quality IoT solutions.
In addition to the RuuviTag sensors and Mopeka Tank Check Sensors, Solar 4 RVs also offers a wide range of compatible accessories and complementary IoT products. Customers can expect exceptional customer service, fast shipping, and competitive pricing when shopping for Ruuvi and Mopeka products on the platform.
For more information about the available Ruuvi and Mopeka IoT devices, and to explore the full range of products, visit www.solar4rvs.com.au.
Ruuvi and Mopeka IoT Solutions Now Compatible with Victron Cerbo GX Device at Solar 4 RVs
We are excited to announce that Ruuvi and Mopeka IoT solutions are now compatible with the Victron Cerbo GX device. This integration allows you to easily monitor and manage your solar energy system through the Cerbo GX interface. By connecting your Ruuvi and Mopeka devices to the Victron Cerbo GX, you can access valuable insights and gain greater control over your energy consumption and system performance. Enhance your solar energy experience with seamless compatibility and expand your system's capabilities by leveraging the power of IoT solutions from Ruuvi and Mopeka.
About Solar 4 RVs:
Solar 4 RVs is a leading online retailer specializing in solar, off-grid and RV/Caravan products and solutions. The platform offers a wide variety of innovative devices from top brands, including Ruuvi and Mopeka, ensuring customers have access to the latest technologies for smart living and efficient business operations. With a strong commitment to customer satisfaction, Solar 4 RVs strives to provide high-quality products, competitive pricing, and exceptional service.
Expanding IoT Offerings at Solar 4 RVs:
As an authorized distributor for both Ruuvi and Mopeka, Solar 4 RVs is dedicated to continually expanding its range of IoT offerings. The platform aims to provide customers with cutting-edge solutions that not only improve daily living but also cater to the specific needs of those in the RV, marine, and industrial sectors. By continuously updating its product catalog and staying ahead of industry trends, Solar 4 RVs solidifies its position as a leading e-commerce platform for IoT devices.
Driving IoT Adoption with Solar 4 RVs:
The Internet of Things has the potential to transform how people live, work, and play. By partnering with innovative companies like Ruuvi and Mopeka, Solar 4 RVs plays an essential role in driving IoT adoption among consumers and businesses. The platform's user-friendly website, comprehensive product information, and knowledgeable customer support team ensure that customers can confidently invest in IoT solutions that meet their unique needs.
Get Started with IoT at Solar 4 RVs:
If you're interested in exploring the world of IoT, Solar 4 RVs is your go-to destination for high-quality devices from trusted brands like Ruuvi and Mopeka. Browse the extensive product catalog, learn about the benefits of IoT, and discover how these innovative solutions can enhance your life and business operations. Visit www.solar4rvs.com.au today to get started on your IoT journey.
Contact Information:
For more information about Solar 4 RVs, Ruuvi and Mopeka IoT products, or for any inquiries, please contact:
Solar 4 RVs
U13 5 Kelletts Road
Rowville, Victoria 3178
Australia
Phone: (03) 9763 3363
Email: info@solar4rvs.com.au
Website: www.solar4rvs.com.au
Source: Solar 4 RVs