Customers share photos of lightweight, tough eArc solar panels on marine vessels
Date Posted:20 September 2019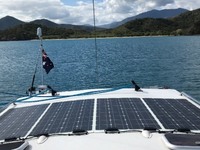 Because we offer a personalised service, our customers often get back to us with feedback and photos of their installations.
In the last week a number of our customers have shared their photos of eArc solar panels installed on their marine vessels. They are perfect for yachts and cruisers as they are thin, lightweight and have a tough textured surface. A 160W panel is only 2.9kg and they are super thin at 2mm.
eArc solar panels are the only lightweight solar panel with Clean Energy Council (CEC) Accreditation and the only lightweight solar panel with International Electrotechnical Commission's certification IEC 61215, which defines requirements for PV modules suitable for long-term outdoor operation.
The modules offer the same durability and performance as standard glass modules with crystalline silicon cells. In addition to the protective layers on the front and back sides, the panels are laminated on both sides of the solar cells with multiple layers of waterproof glass fibre reinforced polymer composites similar to aircraft windows. Being stronger they are rated 2400 pascals for wind and 2400 pascals for load. Relibiity and durability means they have a 5 year product warranty for mobile applications, a 10 year product warranty for buildings and a 25 year performance guarantee.