Co-owner Trish Chapallaz wins 2019 Australian Businesswoman of the Year
Date Posted:18 November 2019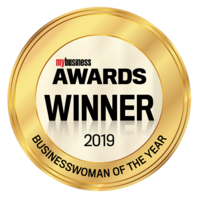 Success at 2019 MyBusiness Awards
At a glittering back-tie awards dinner held at The Star Event Centre in Sydney Solar 4 RVs Co-founder/owner Trish Chapallaz won the prestigious Australian Businesswoman of the year award.
With ten deserving finalists in the running for the title Trish was honoured to be recognised for her career achievements.
Leadership
In the fast, ever-changing world of solar energy technology Solar 4 RVs is nimble enough to continually evolve. By seeking out opportunities rather than waiting for them to appear means leading the way rather than following the next market shift. Selling products that are game changers in terms of longevity, technology and warranty such as UV stable tough textured surfaces on flexible solar panels (a first for Australia) gives Solar 4 RVs a distinctive competitive advantage.

Well versed in the challenges of working in an environment with limited gender diversity Trish strives to empower both men and women to evaluate the way they are approaching issues, challenges, changes and communication. Never one to shy away from delegating tasks, promoting independent thinking and giving and promoting feedback Trish demonstrates that embracing mistakes is a positive learning for the future.
With an influx of online vendors selling cheap, inferior products that fail quickly, whilst claiming to be 'specialists' selling the 'best' products, is compromising the reputation of lightweight solar products.
These websites often contain significant amounts of inaccurate information and false claims so Trish take great care in writing buyer guides that are accurate, honest, meaningful after co-owner Phil has conducted extensive research, testing and field trials.
Mentoring initiatives
Improving prospects for women in the industry not only requires opportunities to be created within the industry, but a pipeline of talent to fill those opportunities. Trish believes mentoring at the earliest age can build a woman's belief in her capabilities and get her engaged in building her skills and networks and consider a wider range of career choices.
Trish has committed significant time to a mentoring program for female secondary school students to transform gender specific career attitudes. Initially she designed and facilitated the training program for local business women to prepare them in their mentoring role and then participated as one of the mentors. This initiative develops the student's professional and interpersonal skills, expands their horizons to include STEM, and assists them to consider their future career journey.

Being a mentor in the Australian Women in Resources Alliance (AWRA) e-Mentoring Program has enabled rish to contribute to the prospects of women in the energy sector. The program is supported by the Australian Government through the National Resources Sector Workforce Strategy. Mentoring has been identified as one mechanism to achieve greater participation and advancement of women working in these industries however remote locations, complex rosters and a shortage of female peers has highlighted a need for an alternative to traditional mentoring programs.
Public Speaking
As a Keynote Speaker at the 'Women on the Go' expo and forum Trish shared her insights of being a female manager and business owner in a male dominated environment. Critical learnings from 30 years in senior management were shared using humorous stories gained from my many careers successes, and faux pas.
The Clean Energy Council's "Women in Renewable's Speakers Guide" showcases leading female industry professionals and the breadth of their expertise and knowledge. This provides solutions to event organisers to achieve gender diversity in their programs and panels and Trish is proud to be selected for inclusion.
Insights into being a succesful business
Trish's insights to having a successful business are to know your target market, stay at the forefront of technology, offer quality products, provide accurate, honest advice and relish the opportunity to tackle the unusual. Don't rest on our laurels.
Solar 4 RVs also won the 'Energy Business of the Year' Award.