Small Business Digital Taskforce video released
Date Posted:3 April 2018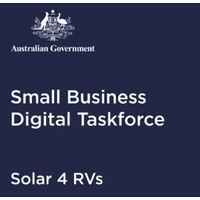 The Small Business Digital Taskforce video of the interview conducted with Solar 4 RVs is now on the Australian Government website.
Improving digital engagement has the potential to significantly improve small business productivity in Australia, and help create an economy that is strong and dynamic. Small business across a diverse range of industries, locations and sizes in Australia are adopting digital technology as part of their businesses and four benefits are clear:
'going digital' saves a small business time
'going digital' provides small business with the flexibility and mobility to work anywhere, anytime
'going digital' can increase a small business' revenue by reaching new customers and markets
'going digital' can protect a small business' investment.
A selection of 11 business case studies across Australia provide insights into how small businesses are realising the benefits that Australia's digital economy can present.