Australian Small Business Champions Awards Finalist
Date Posted:6 March 2018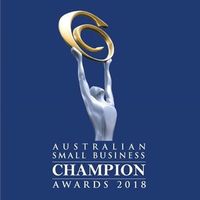 Solar 4 RVs has been selected from over 2,000 nominations as a Finalist in two categories of the 2018 Australian Small Business Champions Awards.
The two categories are are 'Specialist Small Business' and 'Business Growth'.
The awards are considered the 'Oscars of Small Business' recognising the leadership, hard work and dedication required to produce the levels of business success needed to thrive.
Owners Phil and Trish Chapallaz will travel to Sydney for the Awards dinner at the Star Event Centre on Saturday 21 April.