Our solar panel stars on ABC
Date Posted:5 July 2017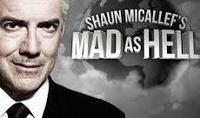 We have our own TV star!

One of our solar panels has been used in a sketch for Shaun Micallef's Mad As Hell program showing on ABC today at 8:30pm with repeats Thursday 6th July 8.22pm ABC2 and Friday 7th July 11.07pm
We were surprised to get a call from the Art Department at the ABC and were of course happy to loan the panel.
The appearance is in episode 3 of series 7.