Flexible solar panels in Antarctica
Date Posted:31 March 2017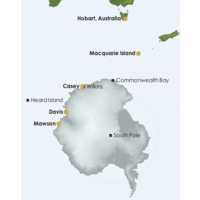 The Australian Antarctic Division (AAD) based in Hobart, Tasmania, is a division of the Australian Government's Department of the Environment and Energy.
In 2016 Solar 4 RVs first supplied the Australian Antarctic Division (AAD) with Solbian flexible solar panels and Genasun solar charge controllers for installation on Macquarie Island. This is a subantarctic island located in the Southern Ocean, approximately half way between Australia and Antarctica.
The AAD generates solar power in remote field locations for a number of different scenarios including powering VHF radio repeaters, remote radio installations, automatic weather stations and remote area power supplies.