Finalist in 2017 Optus My Business Awards
Date Posted:18 September 2017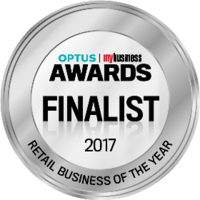 Solar 4 RVs has been chosen as a finalist in the prestigious 2017 Optus My Business Awards
The My Business Awards contacted Solar 4 RVs in August to advise we had been nominated in the category 'Retail Business of the Year' and we are delighted to be shortlisted as a finalist. We will be travelling to Sydney for the awards dinner at The Westin Grand Ballroom on Friday November 10.
The Optus My Business Awards, which covers 28 categories, acknowledges best practice within a particular industry sector, as well as individual business leaders, excellence in customer service and achievements in innovation, corporate social responsibility and workplace culture.
Winners from all categories will be automatically shortlisted for the highly coveted Business of the Year Award.
Adam Zuchetti, editor of My Business, said Australian SMEs are at the leading edge of innovation and customer service excellence, as represented by this year's Optus My Business Awards finalists. "My Business is extremely proud to showcase those companies and their leaders that are thriving by pushing the boundaries and challenging the status quo across a diverse spectrum of industries,"
Mr Zuchetti said. "Determining this year's finalists was no easy feat, with our selection panel working through an outstanding calibre of entries and the highest submission rate for the awards to date. On behalf of the My Business team, I would like to congratulate all of this year's finalists and wish them the best of luck."
The winners will be announced at a black-tie awards dinner on Friday, 10 November at The Westin Grand Ballroom Sydney.