Expansion of solar sales in South Pacific
Date Posted:27 February 2017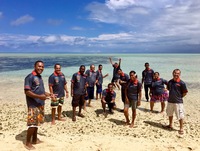 Our premium solar products are now available in the South Pacific.
'The Yacht Shop', operating since 1981, has five stores around Fiji managed from their main store, warehouse & head office near the capital of Suva at Lami town. This store, and the other four stores at Vuda, Denarau, Savusavu & the Royal Suva Yacht Club, are part of the 'Tradewinds Marine Group', a private company owned by the Philp family. The shops will be selling our product range including Solbian flexible panels made in Italy which are well known in the yachting community.

Our founder/owner Phil spent 5 days in Fiji with Colin Philp and provided training for Colin's team. Colin is the founding President of the Fiji Surfing Association and Fiji Islands Voyaging Society, and joint founder of Fiji's lifejacket export manufacturing factory. The Yacht Shops commitment to quality matches ours and we are excited to have them as part of the Solar 4 RVs / Solar 4 Boats team.

The Tradewinds Marine Group also operates two International Marina's (Vuda and Savusavu), and builds the successful Islander brand fibreglass boats in Lami.

The Philp family are keen sailors, playing an integral role in many international ocean sport events in Fiji and have all competed at regional, World Championship and Olympic level.
Chairman Anthony C. Philp (President of the Fiji Yachting Association for 35 years), is the current President of the Oceania Sailing Federation whilst Director David Philp runs the Fibreglass Factory and was a board member of the Maritime Safety Authority of Fiji. Director John Philp is the Vice President of the Fiji Surfing Association, and a founding Director of the Water Safety Council (Fiji) Ltd.