Warning when buying flexible solar panels
Date Posted:7 November 2016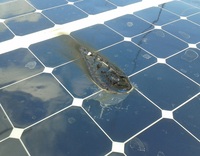 Buyer Beware - a catchphrase that is so important when buying flexible solar panels.
It is important to remember that just because a website claims they have the 'best' solar panels does not mean you will get quality products or accurate information.
Consumers must be vigilant when buying solar products online to avoid being scammed with inferior products and a lack of warranty support from untrustworthy sellers.
It may be tempting to buy the cheapest solar panels available but this can result in your purchase actually being more expensive in the long run. It is important to undertake research to ensure you are going to receive quality products from a reputable, trusted business that backs up their products with technical competence.
We have produced a guide to assist you to:
know which are the best flexible solar panels to buy;
Avoid problems when buying flexible solar panels.
Check it out in the buyers guide section of this website.