Lisa Blair' launch hosted by Dick Smith
Date Posted:24 November 2016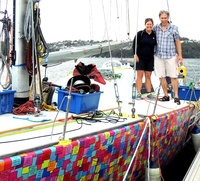 Solar 4 RVs Co-founder and owner Phil met with Lisa Blair at D'Albora Marina, The Spit, Sydney prior to the official launch today hosted by Dick Smith.
Lisa sets sail for albany WA soon in her bid to become the first female to circumnavigate Antarctica solo, non-stop and unassisted.
Our 8 Solbian solar panels and 8 charge controllers are currently being installed.