Latest technology on new flexible solar panels
Date Posted:22 June 2016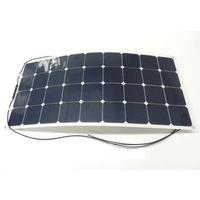 Solar 4 RVs is at the forefront of quality with ETFE on their new flexible solar panels
Our commitment to quality and using the latest technology continues with our current manufacturing run utilising a film of ‪ETFE‬ on the surface.
Ethylene-Tetra-Fluoro-Ethylene (referred to ETFE) is made from an artificial high-strength fluorine polymer, which is corrosion resistant, highly stain resistant, highly elastic, is easy-to-clean, has high light transmittance, and boasts long service life.
The film is transparent and very lightweight with a thickness of only 0.5 millimetre. It will not discolour or degrade from exposure to environmental pollution, UV light, harsh chemicals or extreme temperature variations.
Sunlight reaching the solar cells is a key component of efficiency. Due to the non-adhesive surface properties of the ETFE, these panels are less likely to hold pollutants which can block the sun as deposits of dirt, dust, and debris do not stick and are washed away by the rain resulting in a "self-cleaning" effect.