Epic Antarctic circumnavigation with solar
Date Posted:24 October 2016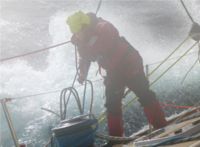 Solar 4 RVs is sponsoring Lisa Blair' to become the first female to circumnavigate Antarctica solo, non-stop and unassisted.
Along with Solbian Italy we have jointly supplied 8 SolbianFlex solar panels and 8 Genasun boost solar charge controllers.
She is currently fitting out her zero carbon emission yacht 'Climate Action Now'.
Lisa will become the third person in history to achieve such as challenge which is made extremely difficult due to large waves, aggressive storm systems, ice and exposure to the icy waters and the cold.
She aims to complete the 16,400 nautical-mile circuit, unassisted, in 90 days and break the record of 102 days, one hour, 35 minutes and 50 seconds.
We will provide updates on her progress.