Vanuatu Solar Project - second hand equipment wanted
Date Posted:8 April 2015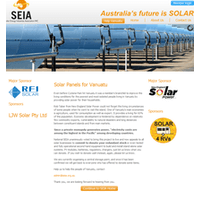 We proudly support the Australian Solar Energy Industries Association (SEIA) Project to improve the living conditions for the poorest and most isolated people living in Vanuatu by providing solar power for their households through installing stand-alone solar systems.
We have donated a new Battery Power Pack with inverter.
If you wish to donate any second hand items such as solar panels, regulators or chargers we will test them and pass them onto the SEIA central collection point. Since a private monopoly generates power in Vanuatu "electricity costs are among the highest in the Pacific" among developing countries so any donations will have a significant impact. Call us on 0488 918 910 if you can help. SEIA is also accepting cash donations. Thank you.