Solar Electric boat has water trial
Date Posted:16 November 2015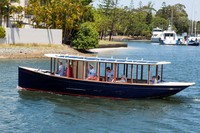 The first Solar Electric boat with Solar 4 RVs flexible solar panels and Victron controllers has commenced water trials.
Waters trials took place off Runaway Bay Marina at the Gold Coast.
These solar-electric boats will commence cruising in December. The historic design with modern comfort for twelve passengers will be environmentally friendly with no pollution of air, water or sound. 36 of our thin, flexible panels have been fitted to the canopy (18 for each boat) plus Maximum Power Point Tracking (MPPT) solar charge controllers.
Phil Chapallaz has made a number of trips to Queensland recently to oversee installation of the final components of our solar system onto the first of two new solar-electric launches that are being built for service on Perth's Swan River in WA.