Solar 4 RVs™ flexible solar panels installed on World Solar Challenge vehicle
Date Posted:12 October 2015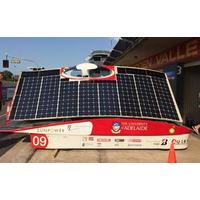 Adelaide University Solar Racing Team is using Solar 4 RVs™ flexible panels on their entry into the 2015 World Solar Challenge which runs from 18 - 25 October. All 46 teams from 25 countries will make the 3,000km journey from Darwin to Adelaide powered solely by the sun. The event is held every two years.
We flew 5 x 135W, 1 x 110W and 2 x 100W lightweight solar panels with SunPower cells to Darwin after the team discovered they were having trouble obtaining the required voltage from their array. The team had used a unique encapsulation method of SunPower's world class cells and unfortunately moisture had found its way into their array causing it to short circuit in the lead up to the race which starts on Sunday. We appreciate that this dedicated and skilled team have chosen us to assist them for this event.
Photo showing our panels on 'Lumen' are copyright of Adelaide University Solar Racing Team.