Queensland Caravan, Camping & Touring Supershow
Date Posted:8 June 2015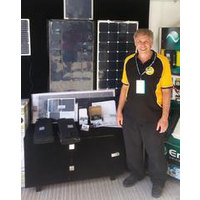 The 47th annual Queensland Caravan, Camping & Touring Supershow was held at the Brisbane Showgrounds from 3-9 June welcoming over 55,000 visitors.
Phil took the opportunity to support local businesses that sell and use Solar 4 RV solar panels.
Solar 4 RVs has many businesses and customers in Queensland so it was a great opportunity to meet many of them plus establish some new contacts.