Presentation at 'Women on the Go' Forum and Expo
Date Posted:28 August 2015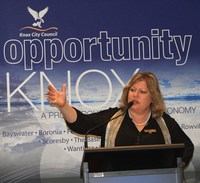 Solar 4 RVs™ Co-Founder Trish Chapallaz was a guest speaker at 2015 'Women on the Go' Forum and Expo.
Trish enjoyed the event and appreciated so many attendees coming up afterwards to chat and ask for copies of her presentation.
The event, organised by the Knox Economic Development Team, was an outstanding success with over 115 registration and 50 expo stands.