New textured surface for Solbian
Date Posted:8 July 2015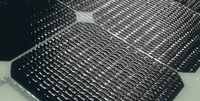 After one year of tests and field trials, a new textured panel surface is now available on the SP series of Solbian flexible solar panels.
The slightly thicker layer is more scratch resistant and less sensitive to UV.
Giovanni Soldini, skipper of the Maserati 70-foot carbon fibre, mono-hull racing yacht advises it will be less slippery during the critical conditions he finds in his ocean crossings.