New showroom and warehouse
Date Posted:27 November 2015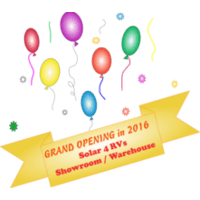 We have grown and need storage space and a showroom - so it is time to move. We will be busy fitting out our new premises over the Christmas/New Year period and moving during January.
The premises will have a large enough warehouse area to enable two caravans to be parked for installations.
A racking system will be installed to cater for our large range of solar panels. We offer the largest range of flexible solar panels in Australia.
There will also be a large dedicated packing area plus storage area for other stock.
Phil will have a large research and testing area.