National Tree Day Corporate Planting event
Date Posted:17 July 2015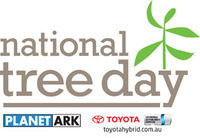 Solar 4 RVs™ joined other like-minded businesses at Marie Wallace Bayswater Park for the annual National Tree Day Corporate Planting event hosted by Knox City Council.
Even though the wind was cool, the weather was kind to us this year, as it was last year, providing warming sunshine between light showers.
This year Planet Ark is celebrating 20 years of National Tree Day, which is Australia's largest community tree planting and nature-care event that connects thousands of individuals, businesses, community groups, schools and sporting groups with nature.
Since 1996 more than 3 million people have planted 21 million trees and plants thereby beautifying neighbourhoods and inspiring positive environmental change. ​
After the event we had the pleasure to meet the team from 'Melbourne Tree Care'. Check out our Facebook post on Monday to read about the pioneering work they are doing to save our endangered species.