Support for East Timor Sustainable Solar Project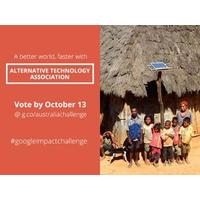 Solar 4 RVs is supporting the Alternative Technology Association (ATA) in it's aim of creating a sustainable solar industry in East Timor. The Solar for Timor plan aims to install 2000 solar lighting systems and train 75 village-based installers in the next two years,delivering an overall 60kW of low-emission solar energy. The project has been named a finalist in the Google Australia Impact Challenge. The Challenge rewards innovative not-for-profit initiatives that use technology to change lives, with the public asked to vote for their favourite. The most number of votes by 13 October will secure a $500,000 grant for their project. ​

The ATA is a not-for-profit organisation promoting household renewable energy, sustainable design and watersaving. For more information on their work in East Timor click here.